LED stands for Light emitting diode, which means light emitting diode. LEDs, as their name implies, belong to the family of diodes, and diodes are a subset of semiconductors. A feature that distinguishes LEDs from other semiconductors is that some energy is emitted as light as current passes through them.
Single color LEDs, like other diodes, have two bases, anode and cathode. Dual LEDs (or more) have a common base (usually a cathode, known as a "common cathode") and another base (usually an anode) for each color.
The first industrial products of algae entered the market in 1962 in red (a combination of aluminum, gallium and arsenide). Green, blue, yellow, and orange proofs were later produced in the 1970s. Luminous efficacy (lm / W) Optical efficiency gradually increased until in the 1980s and early 1990s, high-performance LEDs entered the market en masse. Early proofs were used only in electronic circuits due to their low optical efficiency. But today LEDs are used as a quality light source in ambient light. The light effect of today's white LEDs is up to 70 lumens per watt and color LEDs are up to 50 lumens per watt and are projected to reach 140 lumens per watt.
Conventional LEDs, known as hats and scarves, are the first generations to evolve gradually.
As shown in the figure, a light emitting diode consists of the following parts:
– Positive base (anode) and negative base (cathode)
– Gold wire (wire bond, which in industrial samples may also use gold and copper alloys)
– LED chip that releases energy in the form of light by passing electricity through it.
– Polished cavity for better reflection and prevention of light loss
– Lens, which is mainly made of epoxy and is used to better guide light.
High Power LEDs are the next generation of transformed LEDs that were inspired by the internal structure of helmet LEDs.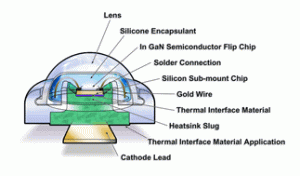 The image above shows the internal structure of the power LEDs.
In general, power LED is a type of LED that has a power higher than half a watt. Power LEDs are the same as light emitting diodes, but with a higher throughput current that will result in more power as a result of higher light output in LEDs. Low power LEDs, known as helmet LEDs, have a current of about 20 They consume mA and have a power of less than 0.1 watt.
Today's and more advanced generations of LEDs were marketed under the names of SMD and COB LEDs, which were different from each other and the previous generation in terms of chip layout structure.
Famous LED lamps in the Iranian and world markets today use SMD and COB technologies in the structure of their light source. An incandescent LED lamp consists entirely of the following components.
Rose Calibration Company in Melbourne, Australia with over ten years of experience provides all calibration, maintenance, and repair services throughout Australia. If you live in Sydney, Melbourne, Adelaide, Perth, Geelong, and Brisbane, you can receive your quote in less than two hours by fill-up the form via the "Booking" link.