Water Flow Meters
Water flow Water Flow Meters tool that is able to measure the amount of water passing through a pipe.
Depending on the water metering application, the budget and maintenance requirements, several water flowmeter technologies are available.
Each of these water flowmeters has unique operating principles, special costs and practical benefits.
There are 4 main types of water flowmeters: Mechanical water flowmeters  Ultrasonic flowmeters, vortex flowmeters and magnetic flowmeters.
Four types of water flowmeters
Mechanical flowmeters 
These flowmeters are the most common and cost-effective type of water flowmeters that measure flow through turbine rotation with a shunt, impeller or blade design.
This type of mechanical water flowmeter works by measuring the speed of water flow through a tube that causes a piston or turbine to rotate.
The volumetric flow rate of water is proportional to the rotation speed of the blades.
One of the disadvantages of mechanical flowmeters for measuring water is that when the water is dirty or contains large particles, these flowmeters may become clogged, leading to increased maintenance costs.
Also, these flowmeters do not work well when the water flow is low.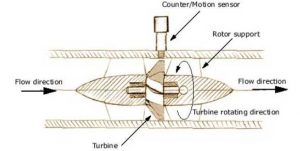 Vertex flowmeters 
 Vertex water flowmeters use vortices generated by a current-immersed sensor.
Whirlpools They are natural forces that are created when a fluid crosses an obstacle.
In a vortex flowmeter, as each vortex flows, a sensor bends from side to side, generating an external frequency that is directly proportional to the volumetric velocity of the current.
Multivariate vortex flowmeters can measure up to 5 process variables with one process connection: temperature, pressure, density, mass flow, and volumetric flow rate.
Vertex flowmeters work well on very large pipes.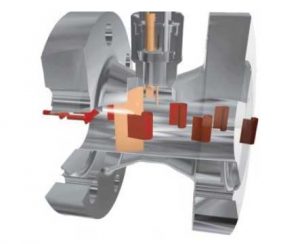 Ultrasonic flowmeters
Ultrasonic water flowmeters use ultrasound to measure the flow rate through a tube to measure volumetric flow.
In a liquid flowmeter of the ultrasonic type over time, an ultrasonic signal is transmitted downstream and then another upstream signal is transmitted upwards.
Sound pulse transit time is compared to upward pulse transit time.
Using this time difference, the flow rate of the fluid is calculated.
The flowmeter then calculates the volumetric velocity of the flow in the tube using this fluid velocity.
In addition, BTU energy can be obtained by using the volumetric velocity of the flow and the temperature difference between the hot and cold bases.
Clamp-on ultrasonic flowmeters can measure water from outside the pipe by sending sound pulses through the walls of the pipe.
Therefore, these flowmeters are suitable for measuring water flow in large pipes due to the flexibility of the program and construction.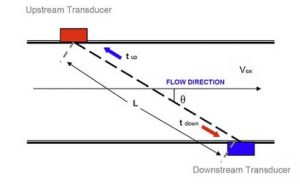 Magnetic flowmeters 
Magnetic flowmeters measure the velocity of a fluid in a tube using a magnetic field to measure volumetric flow.
They are based on Faraday's law of electromagnetic induction, which states that when a fluid flows in a magnetic field, it produces voltage.
The higher the fluid flow rate, the higher the voltage generated.
The voltage generated is directly proportional to the movement of water.
The voltage signal is then electronically converted to a volumetric flow of fluid.
Because magnetic flowmeters show moderate accuracy, they are not suitable for transmission applications and cannot be used to measure pure water because it has no ions to measure.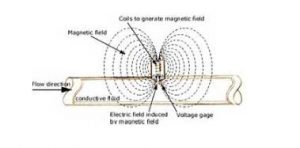 Rose Calibration Company in Melbourne, Australia with over ten years of experience provides all calibration, maintenance, and repair services throughout Australia. If you live in Sydney, Melbourne, Adelaide, Perth, Geelong, and Brisbane, you can receive your quote in less than two hours by fill-up the form via the "Booking" link.