The most important application Laser rangefinder Distance measurement is leveling and matching, which is used depending on the type of application in various industries, including civil engineering and surveying, industrial production processes, military industries, and so on.
The most important applications of laser rangefinders inside the building are:
Installing and leveling all kinds of frames, frames and columns
Installation of cabinets, shelves and toilets
Install wallpaper and stencils
Types of interior decoration operations
Drywall installation, partitions and false walls
Installation and alignment of doors and windows
False ceilings and floors and rabbits
Construction and installation of panels, molds, frames and cabinets
Installation and connection of devices to the wall such as: machines, photos, posters and…
Worn tissue reconstruction projects
Installation of electrical connections, switches and sockets, chandeliers and ceiling lights
Supervise and control the performance of construction project contractors
Military
Manual military rangefinders operate in the range of 2 to 25 km and are combined with binoculars and monoculars. When the rangefinder with a digital magnetic compass(DMC)And the deflection gauge can combine magnetic orientation, slope, and height (length) of targets. Some rangefinders can also determine the speed of targets relative to the observer. Other rangefinders have a cable or wireless connection that enables them to send their data to other devices, such as a fire control computer. Some models also offer the possibility of adding night vision models. Most rangefinders use standard or rechargeable batteries. A soldier with a laser rangefinderGVS-5Using binoculars, laser rangefinders and Magnam rifles rangefinders provide an accurate range for shooters and artillery for targets farther away from direct firing range..They can also be used for integration and military engineering.
More powerful models of rangefinders measure distances up to 25 km and are typically mounted on a tripod or directly on a vehicle or cannon chassis. In more modern cases, rangefinder models are combined with orbital temperature and day and night vision equipment. Most advanced military rangefinders can be combined with computers.
To reduce the effectiveness of laser rangefinders and laser tracking weapons against military targets, different military forces have developed laser-absorbing paints for their vehicles. Some objects do not reflect laser light very well and it is difficult to use a laser rangefinder on them.
Three-dimensional modeling
This Lidar scanner can be used to scan buildings, stone structures and to produce a three-dimensional model.Lidar can beamGuide the laser in a wide range: its head rotates horizontally, a vertical mirror moves. The laser beam is used to measure the distance to the first object in its path.
This scanner can scan buildings, stone structures and…Used to produce a three-dimensional model. LIDARIt can direct its laser beam over a wide range: its head rotates horizontally, a vertical mirror moves. The laser beam is used to measure the distance to the first object in its path.
Laser rangefinders are widely used in the identification and modeling of 3D objects and a wide variety of disciplines related to computer virtual images. This technology is the heart of scanners(scanner)Three-dimensional flight time(time-of-flight)form. Compared to the military instruments described above, laser rangefinders have scanning capabilities(scanning)They provide high accuracy with one-way or 360-degree scanning modes.
A number of solutions(algorithms)To accommodate the range of data received from different angles of an object, they have been expanded to produce complete 3D models with the least possible error. One of the advantages of laser rangefinders over other computer virtual imaging methods is that the computer does not need to relate the properties of the two images to determine depth information (such as projection techniques)..
Laser rangefinders Used in computer imaging applications, they usually have a depth resolution of one tenth of a millimeter or less. Using fans(techniques)Three corners or failure measurements can be achieved.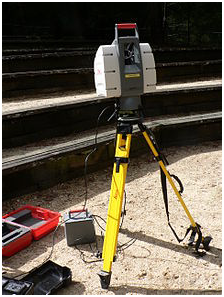 sports
Laser rangefinders can be used effectively in a variety of sports that require accurate distance measurement such as golf, hunting and shooting..
Industrial production processes
One of the important applications is the use of laser rangefinder technology during the automation of warehouse management systems and production processes in the steel industry..
Laser measuring tool
Laser rangefinders can also be used instead of meters in several industries such as construction, renovation and real estate. While it takes two people to measure a large space, such as a room, in a straight, unobstructed path with a meter, a laser measuring device can do this with one person, with only one vision path required. . Laser measuring instruments typically have the ability to produce some calculations, such as the area or volume of a room.
Safety
Laser rangefinders are first-class laser devices for customers and are therefore known to be safe for the eye. Some laser rangefinders exceed the Class 1 energy level for military use.
Rose Calibration Company in Melbourne, Australia with over ten years of experience provides all calibration, maintenance, and repair services throughout Australia. If you live in Sydney, Melbourne, Adelaide, Perth, Geelong, and Brisbane, you can receive your quote in less than two hours by fill-up the form via the "Booking" link.