Arifis Flange
Orifice Flanges are one of the oldest methods of measuring flow.
In this method, the fluid flow is passed through a duct that is smaller than the cross-sectional area of ​​the main stream.
The pressure difference created is measured by a pressure difference measuring device and the fluid flow rate is obtained using the governing relations.
This flange is of rotating type and is used with orifice plates and related accessories to measure the flow rate of fluids . Is embedded.

Oriflage flange fitting size
The size of the holes is usually to measure the joints "1/2" and "3/4" and its thread type (NPT) and the screw jack screws are effective when removing the flange for inspection or replacement of the orifice.
Along with Orifice flanges, open or closed orifice sheets are used to reduce pressure or block the flow in different sizes as follows:
Spade:
These sheets are in the form of circular plates with an arm that is placed between the above two flanges.
Application of Orphis Flange:
In addition to measuring fluid flow, an orifice flow meter is also used to reduce flow pressure and limit the flow rate.

Oriflate Plate

 can be used to measure the flow of most fluids, including steam and gaseous fluids, and high temperatures do not affect them.

These flow meters are suitable for turbulent and clean fluids. But in the case of corrosive and erosive fluids, care must be taken in its selection.

The measurement accuracy of this method depends on the quality and installation method, the accuracy of the calculations and the conditions of the page itself, with a percentage of error of about 1% is relatively accurate and can be used for all sizes.
But it is more economical for large sizes, with the difference that in pipes with a diameter of more than "24" orifices are implemented on the pipe instead of flanges . Using this method for relatively large pipes is relatively inexpensive.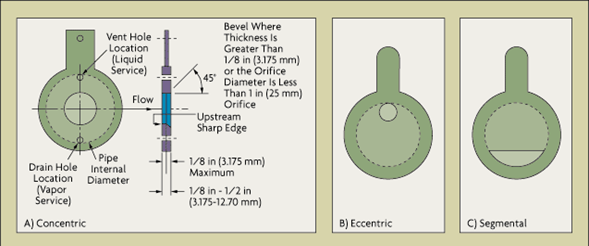 Advantages and disadvantages of Orphis Flange:
Aperture flow meters are easy to install and can measure current in both directions.
These flowmeters can be used for all sizes and are even more economical for large sizes.
The absence of mechanical parts in this flowmeter has reduced mechanical erosion. However, these plates are subject to wear and corrosion by the fluid and it is necessary to inspect them periodically.
These plates cause a relatively large amount of turbulence due to the obstruction of the fluid flow path, resulting in turbulence.
Orifis is a measure of many sites. But they are not used in water and sewage industry.
Measurement accuracy in orifices is affected by changes in density, adhesion, and fluid temperature. For this reason, these flow meters must be periodically checked and calibrated.
Rose Calibration Company in Melbourne, Australia with over ten years of experience provides all calibration, maintenance, and repair services throughout Australia. If you live in Sydney, Melbourne, Adelaide, Perth, Geelong, and Brisbane, you can receive your quote in less than two hours by fill-up the form via the "Booking" link.