A coaxial cable, also called a coaxial cable, is a cable with an "conductor" internal conductor covered by a "mostly polyethylene polymer" polymer insulation.  
There is a woven copper layer (screen) on the insulation, the purpose of which is to eliminate electric fields outside the cable.
All these components are covered by a polymer layer, mainly made of PVC.
These cables are suitable for transmitting audio frequencies, especially receivers and transmitters, computers, and radio and television communications.
Application of coaxial cable
From long-distance coaxial cable for communication between radio, television and telephone networks, and from short coaxial cable for communication between home video equipment and electronic measurements, and from micro-coaxial cable in military equipment and superior scanning devices. Audio is used.
Of course, this cable is often used to carry signals from the antenna to the receiver, from the TV station to the TV receivers, and from the radio tower to the radio receiver and the like.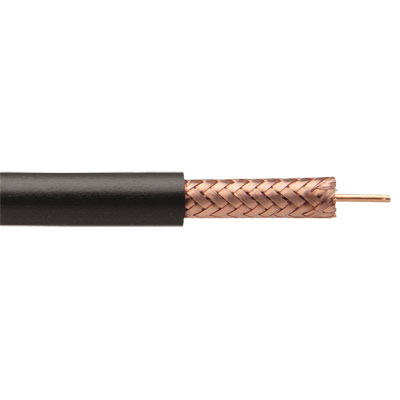 Types of coaxial cables
Coaxial cables are classified based on impedance, diameter and requirements.
Accordingly, the types of coaxial cables in accordance with the requirements of JIS 3501 and based on the impedance characteristic (electrical impedance is the amount of resistance that appears under a potential difference against electric current.
The value of impedance is a real or complex number that is derived from the voltage-to-current ratio according to Ohm's law. The impedance is indicated by the symbol Z. ) Are divided into cables with impedance of 50 and 75 ohms.
Coaxial cable is divided into two categories
Thin net
This type of coaxial cable is flexible and its diameter is about 0.25 inches .
Because Thin net is soft and flexible and easy to work with. It can be used in almost all networks.
In networks using thinnets , the cable connects directly to the network card. The thin type of coaxial cable can transmit signals up to approximately 185 meters (607 feet) without being attenuated.
The cable manufacturers have agreed on a different cable design. The Thinnet cable is part of the RG-58 family of cables and has an impedance of 50 ohms. Impedance is the resistance of a wire to alternating current.
The main difference between the RG-58 family cables is the copper core at their center.
The core can be twisted into a single wire or multi-strand, which is more suitable for use in computer networks and radio systems, including military wireless transmission, and is not suitable for transmitting CCTV images and remote control systems .
Thick net
This type of cable is flexible coaxial and its diameter is about 0.5 inches. Sometimes referred to as standard Ethernet Thicknet cable .  Because it was the first type of coaxial cable used in the architecture of the famous Ethernen network .
The copper core of this coaxial cable is thicker than its thin type.
Of course, these cables are rarely used these days and in exceptional cases, it is used as the backbone of the network.
The thicker the core, the longer the signal can travel.
Therefore, the Thicknet cable conducts signals over longer distances than the Thinnet . Cable.
The thick type of coaxial cable can transmit signals without attenuation up to a distance of 500 meters (about 1640 feet) .
Therefore, due to Thicknet 's ability to support data transmission over long distances, it is used as the mainstay for connecting smaller Thinnet networks to each other.
A device called a transceiver is used to connect small Thinnet networks to Thicknet networks .
Most of the TV cables are 75 ohms. The type of RJ-59 cable pictured above is common in Iran and has an attenuation of 9.708 (units = decibels per 100 feet, at a frequency of about 750 MHz).
But the cable used today is RG-6 cable, which has a 5.65 attenuation, and for long distances, they use RG-11, which has an attenuation of 3.65 .
The newer common connector is called the F-connector , it is usually screwed (and should not be confused with the Wi-Fi connector) and works well at up to one GHz, at a low price .
Application of coaxial cable
This question is really right! Kwax is designed to carry high-frequency signals and protect those signals against electromagnetic interference (EMI).
Most people may be dealing with cable TV (CATV) service, or they may not like to try twisting and fixing memories on the back of the TV and plugging the cable into the wall outlet and the back of the TV settings. .
Interestingly, these cables are found in many other devices, such as radio advertising media, amateur radio, underwater cable systems, CCTV, home video equipment, and broadband Ethernet software.
Advantages of coaxial cables
Relatively large bandwidth required by most telecommunications services and proper image transmission

High transmission capacity, maximum bandwidth 300 MHz

Good durability and stability

Low maintenance costs
Disadvantages of coaxial cable
High installation costs

More difficult to install than other cables

Signal drop at long distances

Need to use special elements for branching
Rose Calibration Company in Melbourne, Australia with over ten years of experience provides all calibration, maintenance, and repair services throughout Australia. If you live in Sydney, Melbourne, Adelaide, Perth, Geelong, and Brisbane, you can receive your quote in less than two hours by fill-up the form via the "Booking" link.