EC meters
This device, also known as an EC meter , measures electrical conductivity in solution.
This equipment has various applications in research and engineering, as well as common applications in hydroponic systems, aquaculture, aquaculture and freshwater systems to monitor the amount of nutrients, salts or impurities in the water are other examples of its use. .
Buy 
conductivity meter
Conductivity is actually the electric current in a fluid or a solution, but this amount depends on the ionic strength of the liquid.
Also, at what concentration and how ions are distributed in the solution.
Ions have a negative or positive electric charge: Anions are negative and cations are positive.
In natural waters, which contain minerals and soluble salts, electrical conductivity also increases due to the presence of many ions.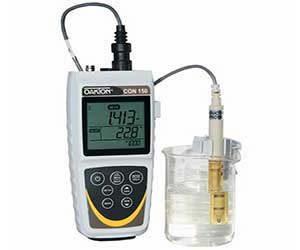 Conductivity meter sales
The types of electrical conducting equipment used in the laboratory use a common potentiometric method with four electrodes.
The electrodes are often cylindrically and centrally arranged.
Electrodes are usually made of platinum metal.
Alternating current is applied to the outer pair of electrodes. The potential between the inner pairs is measured.
Using Ohm's law, the conductivity can be determined using the distance between the electrodes and their surface. For correct operation, the device is calibrated with guided electrolytes.
Conductivity meter price
Industrial conduction probes often use induction method, which has the advantage that the liquid does not wet the electrical parts of the sensor.
Here, two coupled coils are used.
One is the drive coil, which generates a magnetic field and generates a well-known voltage.
The other is the secondary winding of the transformer.
The fluid passing through a channel in the sensor forms a rotation in the secondary winding of the transformer. The induced current is the output of the sensor.
Another method is to use four-electrode conduction sensors made of corrosion-resistant materials.
The advantage of four-electrode conduction sensors compared to induction sensors is the low conductivity and ability to measure conductivity (below 100 μm / cm) (for example, when measuring the conductivity of hydrofluoric acid close to 100%).
Rose Calibration Company in Melbourne, Australia with over ten years of experience provides all calibration, maintenance, and repair services throughout Australia. If you live in Sydney, Melbourne, Adelaide, Perth, Geelong, and Brisbane, you can receive your quote in less than two hours by fill-up the form via the "Booking" link.