Supply of equipment for oil, gas and petrochemical industries, import and supply of flowmeters
Gas Flow Meters Information
Information about gas flowmeters
Gas flowmeters are used to measure the flow or amount of a moving gas.
Fluid flow measurement is an essential requirement in many industrial plants.
The ability to perform accurate flow measurements allows process operators to properly monitor and control flow.
In some cases, incorrect flow measurements or failure to take measurements can lead to serious (or even catastrophic) results.
The basis for choosing a good flowmeter is a clear understanding of the environmental parameters of a particular application.
This may include the type of gas, gas viscosity, potential contaminants or corrosive elements, pipe or system size, and so on.
Gas flowmeters can be classified according to type, performance characteristics and features.
Types of gas flowmeters
1. Differential pressure flowmeters 
These flowmeters, which are based on the Bernoulli principle, measure the pressure drop in the flow.
2. Speed ​​flowmeters
These flowmeters measure the velocity at one or more points in the flow and combine the flow velocity (V) in region (A) to calculate the flow (Q). Using the relation:
Q = V * A
3. Positive displacement flowmeters 
These flowmeters measure the gas flow by carefully installed rotors in which the rotation is proportional to the volume of fluid displaced.
4. Mass flowmeters 
These flowmeters use various methods such as heat to measure the mass velocity of a fluid.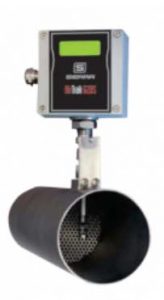 Functional specifications of gas flowmeter 
This ability has been created for industrial buyers to choose gas flowmeters based on performance specifications.
These specifications include flow velocity range, operating temperature and operating pressure.
Flow velocity range 
Is the range of fluid flow at which the device is designed to measure.
The mass, velocity, or volumetric velocities of the flow are not measurable above or below the values ​​specified by the device and may damage the device or its calibration.
Operating temperature 
An acceptable range of temperatures at which the device can operate properly.
Controlling the environment outside this range can damage the device.
Working pressure

 
An acceptable range of pressures at which the device can operate properly. Pressures below this range are not measurable and exceeding this range can cause device failure.
Features Gas flowmeters
Gas flowmeters can include items for device compatibility with the system.
These include installation types, various end connections, interface options, and electrical outlets.
They can also include a number of different features to provide additional measurement capabilities such as temperature and density.
Rose Calibration Company in Melbourne, Australia with over ten years of experience provides all calibration, maintenance, and repair services throughout Australia. If you live in Sydney, Melbourne, Adelaide, Perth, Geelong, and Brisbane, you can receive your quote in less than two hours by fill-up the form via the "Booking" link.