What is a thermostatic steam trap? 
Thermostatic traps operate in response to the surrounding steam temperature. The performance and benefits of these three different types of traps are listed below, each of which operates differently and is suitable for specific types of applications.
1. Liquid expansion vapor trap
This type of steam trap is one of the simplest thermostatic traps shown in the figure below, an element filled with oil to close the valve in front of the seat is heated and expanded, adjusting the trap allows that The trap outlet temperature varies between ℃ 60 and ℃ 100, which makes it ideal for discharging large amounts of air and cold condensate during start-up.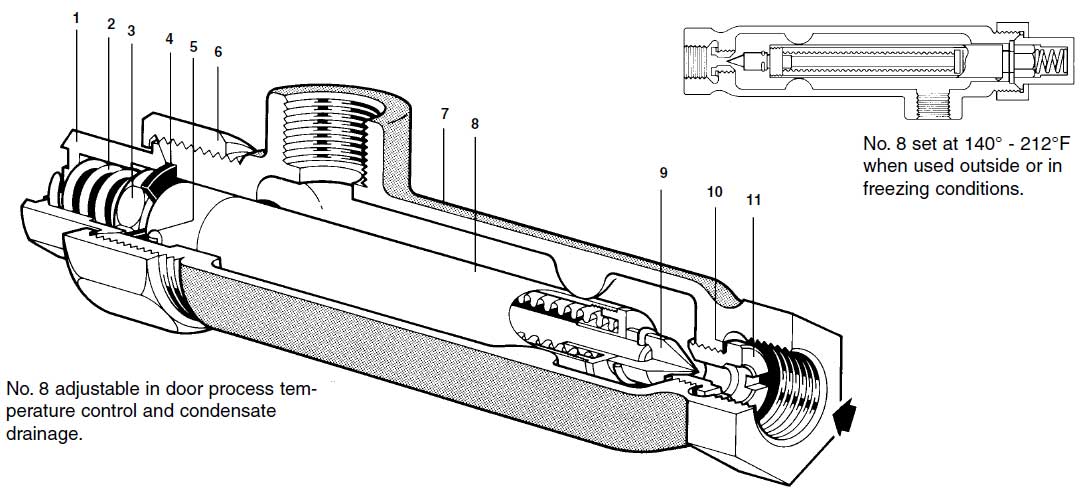 Figure 1: Liquid expansion vapor trap
Case application of liquid expansion steam trap 
Liquid expansion trap due to the constant discharge temperature characteristic is usually used as a discharge trap in the off state, here for continuous immersion of the oil-filled element, the trap outlet should be upwards, as in the figure above. (Condensate out: Since the trap can only be discharged between 60 و and ℃ 100 ° C, it will only remain open during start-up).
It can be installed next to a main drain trap normally connected to a condensate return line.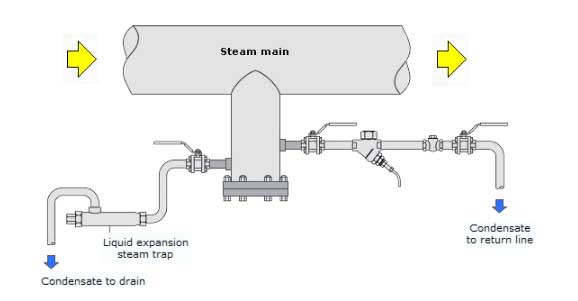 Figure 2: Installation of liquid expansion steam trap next to a main drain trap
Advantages of Liquid Expansion Vapor Traps
These steam traps can be adjusted for discharge at low temperatures, thus providing a great way to discharge cold condensate.
Liquid expansion traps such as "pressure balance based traps" open completely when cooled, and at start-up loads, air discharge is adequate and provides maximum condensate capacity.
Liquid expansion traps can be used as a drainage trap when operating on low pressure superheat steam transmission lines, this type of trap is also able to withstand vibration and "hammer blow" conditions.
Disadvantages of liquid expansion vapor traps



The flexible tube of the element can be destroyed by corrosive or superheated condensate. , If the trap is exposed to freezing conditions, the trap and related piping must be well insulated.
Liquid expansion traps are not a trap solution in themselves as they usually require another steam trap for parallel operation, however this type of trap can often be used where the starting speed is not important.
 2. Steam trap based on pressure balance
In fact, steam trap based on pressure balance is a more developed type of liquid expansion steam trap shown in the figure, its operating temperature is affected by the surrounding steam pressure, a capsule operating element containing a mixture of water and a special liquid With boiling point underwater.
The capsule is free when there is a cold condensate on start-up. The valve, however, rotates its seat and opens wide, expelling air without restriction, a feature of all pressure-balanced traps that explains why these traps are suitable for air conditioning. Are.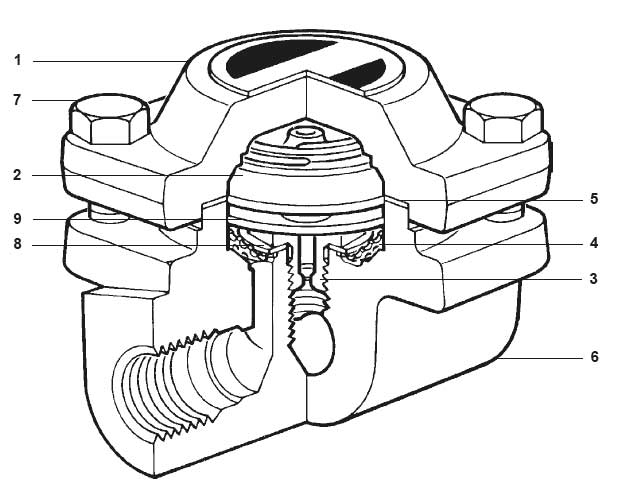 Figure 3: Steam trap based on pressure balance with replaceable capsule
Steam trap capsule performance 

based on pressure balance
When the condensate passes through the steam trap based on the pressure balance, the heat is transferred to the capsule liquid, before the steam reaches the trap, the liquid evaporates, the vapor pressure inside the capsule causes it to expand, and thus even It shuts off and closes the fluid outlet. 
After the water around the capsule has cooled, the heat escapes from the trap, the steam turns into a liquid, and the capsule contracts, thus opening the valve and releasing the condensate until the steam reactivates and the cycle repeats. Be.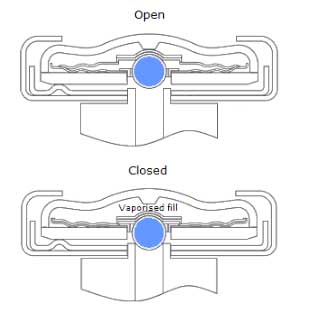 Figure 4: Capsule performance in steam trap based on pressure balance
Sale of thermostatic steam traps
Initial type elements with non-ferrous structure were vulnerable to the effect of "hammer blow", the introduction of stainless steel elements significantly increased reliability.
The following figure shows a wide view of the arrangement of a modern steam trap based on pressure balance, which has significant resistance to damage due to the effect of "hammer blow", superheat and corrosion, in fact superheat is a phenomenon in which a liquid It is heated above the boiling point without evaporating.
Price of thermostatic steam traps

Figure 5: Arrangement of a type of " steam trap based on pressure balance " capsule
Advantages 

of steam traps based on pressure balance
It is small, light and has a lot of capacity compared to its size.
When set up, the valve opens completely. This allows air and other incompressible gases to evacuate freely, removing maximum condensation when the force is increased.
It is unlikely that this type of trap will freeze in one position while working.
The modern type of trap, based on pressure balance, automatically adjusts itself to the maximum working pressure by changing the steam pressure. The trap can also withstand up to 70% of superheat.
Traps are easy to maintain. The capsule and seat can be easily removed, and replacements can be installed within minutes without removing the trap from the line.
Disadvantages 

of steam traps based on pressure balance
Older models of this type of trap had capsules that were vulnerable to the effects of "hammer blow" or corrosive condensate. Recently introduced welded stainless steel capsules are better able to withstand such conditions.
In general, compared to other thermostatic traps, this type of trap does not open until the condensate temperature drops below the steam temperature. (The temperature difference is precisely determined by the liquid used to fill the element.) If this type of steam trap is used in cases such as evacuation of main steam lines, heat exchangers, the time required to cool to evacuate the condensate may cause Condensation remains in the steam line and causes problems or damage to production.
Rose Calibration Company in Melbourne, Australia with over ten years of experience provides all calibration, maintenance, and repair services throughout Australia. If you live in Sydney, Melbourne, Adelaide, Perth, Geelong, and Brisbane, you can receive your quote in less than two hours by fill-up the form via the "Booking" link.