PT100 sensor  
It is one of the most widely used resistance sensors, here we want to talk about one of the most important and widely used resistance sensors.
This sensor, which is the same PT100 sensor, is the most famous type of resistance sensor that has a very high accuracy and recently it is made up to temperatures of 800 degrees.
PT100 sensor features 
The pt100 sensor  is one of the types of temperature sensors (thermal sensors) that are widely used in all industries.
Temperature measuring sensors are generally called RTD, temperature sensors of which the pt100 sensor is one of the most famous and is named as (RTD resistance temperature detector) or resistance sensors.
They are used to measure the temperature of the environment or industrial processes and all the things that we need to measure the temperature.
At the same time, they can be designed and manufactured to measure temperature in all industries and precise laboratories according to the used environment.
As mentioned before, the most famous of them is the pt100 sensor, we explain the meaning of the word PT100, pt and 100, PT is the chemical symbol for platinum, 100 is the electrical resistance in ohms for PT100 at a temperature of zero degrees Celsius.
PT100 sensor price
Resistance changes according to temperature in different countries
0.385 Ohm/°C for European countries and 0.392 Ohm/°C for American countries, therefore, by measuring the resistance we can calculate the temperature. 
Never measure a European PT100 with an American instrument unless you know it has the correct conversion factor.
 English PT100 is also called RTD, which means resistance thermometer, the RTD or PT100 sensor is connected to the measuring device with two, three or four wires.
In fact, the temperature is determined by measuring the resistance. When measuring the resistance, the resistance of the body and cables are also measured, which leads to errors.

PT100 sensor purchase guide
PT100 sensors
If the desired temperature is above 650 degrees Celsius, use a thermocouple.
Of course, you can find PT100s capable of working up to 850°C, which have lower accuracy.
If you need high accuracy, for example better than 0.5°C between zero and 100°C, use PT100.
In general, it is better to use thermocouple at high temperatures and NTC, PTC and PT100 sensors at low temperatures.
What are the types of thermal sensors PT100 sensor
thin film sensors
It consists of a semiconductor that is made according to the international standard and is called pt100 film.
In this type of semiconductor, there is a resistance change based on the temperature change, and through this resistance change, we can calculate and measure the desired temperature based on the standard tables of these changes, which are usually linear.
Ceramic sensors (ceramic wire wound)
It consists of a ceramic cylinder and a thin platinum wire that is very delicately sprung and placed inside this cylinder.
In platinum metal, based on temperature changes, resistance (ohm) changes linearly, and as a result, as we mentioned in the film sensor, we can start and control process temperatures by using these changes.
Glass sensors (GLASS RTD WIRE WOUND)
In the glass PT100 sensor , semiconductors are placed in the form of very thin platinum wires inside a glass chamber, in this type of semiconductor, a resistance change is created based on the temperature change, and through this resistance change, which is usually linear, the desired temperature calculate and measure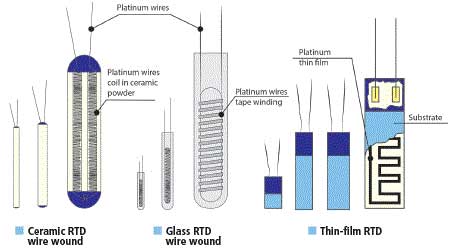 Types of PT100 sensor wires
PT100 sensor wire (PT100 thermocouple) has many variations:
PT100 PVC sensor wire.

Silicone PT100 sensor wire.

Teflon PT100 sensor wire.

Shielded PT100 sensor wire.

Silver plated PT100 sensor wire.

Sensor wire PT100 Flexi Bell.
What are the advantages of the PT100 sensor?
Linear performance over the entire measurement range.

High measurement accuracy and sensitivity (higher than thermocouple).

The possibility of using ordinary connecting wires.

Relatively good measuring range (200-850 C).

Good stability at high temperatures.

High response speed to temperature changes (much higher than thermocouple).

Unlike the thermocouple, radioactive radiation (beta and gamma) does not affect the measured value.
What are the disadvantages of the PT100 ?
Self-heating error due to current flow.

It cannot be used for temperatures higher than 850 degrees Celsius.

Relatively high price (higher than thermocouple).

Breaking one of the wires is seen as a very high temperature.
Rose Calibration Company in Melbourne, Australia with over ten years of experience provides all calibration, maintenance, and repair services throughout Australia. If you live in Sydney, Melbourne, Adelaide, Perth, Geelong, and Brisbane, you can receive your quote in less than two hours by fill-up the form via the "Booking" link.