Necessity of using Steam Trap: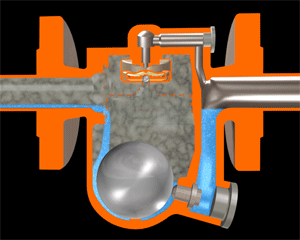 What is a steam trap?
Steam traps are a type of automatic valve that filters gas condensate (ie liquid vapor) and incompressible gases.
In industry, steam is regularly used for heating or as a driving force for mechanical power.
Steam traps are used in such applications to ensure that steam is not wasted.
The American National Standards Institute defines steam traps as follows:
A valve that automatically separates the gas condensate from the vapor chamber and holds it firmly to hold the vapor, allowing the steam to flow at a controlled or set speed if necessary.
Also, most steam traps pass incompressible gases to retain steam.
Why are steam traps installed?
When water evaporates, steam is formed.
For the evaporation process to occur, water molecules must be given enough energy to break the bonds between the molecules (hydrogen bonds).
This energy given to convert liquid to gas is called "latent heat".
Steam-based heat processes use latent heat and transfer it to a specific product.
When this is done (ie, the steam loses its latent heat), the steam condenses to "liquid vapor"." Becomes.
In other words, "liquid vapor" is able to do what steam is not.
Therefore, if the "liquid vapor" is not removed as quickly as possible from the steam pipe or in a heat exchanger, the heat efficiency will be affected.
For more details on the steam heating mechanism, read the following article on steam heat transfer.
Why are steam traps necessary (eg coated kettles)?
Explain the different stages of GIF :
When steam enters, the product heats up inside the coated kettle.

When steam does this, the steam condenses and turns into "liquid steam".

The heat transfer surface area begins to decrease as "liquid vapor" is produced, so "liquid vapor" must be removed.

If the discharge of "liquid vapor" or condensate by opening only one normal valve, steam leakage will occur.

But a steam trap only discharges "liquid steam" or condensate while preventing any steam leakage.
What's wrong with using a manual valve?
It is sometimes believed that the condensate load can be adjusted regularly with a valve instead of a steam trap with easy adjustment of the valve manually according to the condensate produced.
This is theoretically possible. However, a wide range of conditions are needed to achieve this, so it is very limited and in practice is not a realistic solution.
The biggest problem with using this method is that the opening of the valve must be adjusted by draining a constant amount of fluid, which means that fluctuations in the condensate load can not be compensated. In fact, the amount of condensate produced in a given system is not constant.
In the case of equipment, the condensate load at start-up is different from that during normal operation. Fluctuations in crop load also lead to differences in the amount of condensate produced.
Similarly in the case of a steam pipe, the condensate force may vary depending on the outside air temperature.
If the device fails to respond to fluctuations in the condensate load, the condensate to be discharged remains in the equipment or pipe instead, affecting the thermal efficiency.
On the other hand, when the condensate load decreases, steam leaks and steam is lost.
As you can see, in a normal valve, the discharge rate cannot be properly maintained when the condensate load increases, and steam leakage occurs when the condensate level decreases.
The History of Steam Traps Pt 1
History of steam traps (1)
Humans began to use steam in industry from the beginning after the Industrial Revolution in the 18th century.
Steam was initially used as a source of excitation to stimulate pumps, locomotives, and..
Over time, the use of steam as a source of stimulus decreased and instead steam was widely used as a heat source.
As you know, a characteristic of steam is that when its heat is used, it condenses and changes to condensate or "liquid vapor".
The condensate is first removed by periodically opening a valve to remove the condensate or by a valve that opens slowly and full-time to drain the condensate, while steam leakage occurs at the same time.  
History of Steam Traps 
Removing condensate by a manual operator is not only not very troublesome but also causes steam leakage.
As the number of steam-powered applications grew, so did the use of a valve that automatically removes condensate, and this was the beginning of the steam trap.
The first steam trap was a bucket or deli that was developed in the first half of the 1800s.
The type of steam trap developed in the early years was a widespread type of metal in the 1860s.
Then, a little later, in 1930, a stimulus type developed, and finally in 1940, a type of disc that we are all familiar with.
The last Free Float® trap technology was first used in 1966.
Below is a cross-sectional view and a summary of each type of steam trap. Cross-section displays show current versions of each type of trap.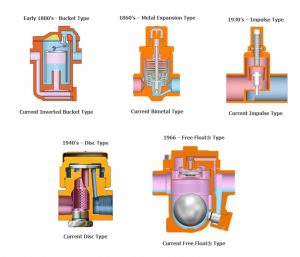 Required features of steam traps 
As we have seen, different types of steam traps have spread over the years.
Each of these types that we have mentioned in this article is in use today.
It is now essential that a steam trap, as an automatic valve type, has the following three characteristics:
Drain the condensate immediately and completely.

It should not leak steam even when used for a long time.

It can also discharge incompressible gases such as air.
Depending on the type (basis of operation, construction) of the steam trap, these features have their own relative strengths and weaknesses.
In addition, the operating modes are different between different types.
There are types that remove condensate continuously and other types that remove condensate intermittently.
The combination of these gives a kind of steam trap with its own characteristics.
The History of Steam Traps Pt 2
History of steam traps (2)
In the history of steam traps in Section 1, we discussed the emergence of different types of traps throughout the history of traps.
The first was the Dalawi steam trap, which operates on the basis of buoyancy based on mechanical performance.
Thermostatic bimetallic steam traps then emerged, which operate mainly on the basis of differences in liquid temperature.
This is with the advent of "disk traps""Thermodynamics based on the phase change from steam to liquid and the law of conservation of energy were followed.
In this article, we discuss the types of traps from each major operating group that are widely used today and the reasons for their popularity.
Changes in mechanical traps 
Among the mechanical traps that have the longest history of all types of traps, the first to be developed was the Dalawi, which is relatively easy to mass-produce.
These Delaware traps were the most commonly used traps in the beginning.
In this type of trap, the bucket was facing upwards and no means to open and close the valve was attached to it.
Instead, they were mostly large traps that the Aquarius himself floated up or down to open and close the valve.
However this type of trap faded for use.
In contrast, a delta trap style in which the aquarius was attached to a lever was widely used.
This type is more compact than the Delaware Trap, in which the Aquarius faces down.
Floating traps contain a floating device with a tight seal, but the emergence of floating traps will have to wait until the processing technology needed to produce these vessels is developed.
This happened in the years following the advent of the Delaware trap.
Because condensate is constantly discharged from a floating trap and does not collect in the steam process, and the life of a floating trap is relatively long, this type of trap is the main trap used today for the equipment needed. They have high discharge capacities.
Changes in thermostatic traps
Due to the necessity of both the pod of a floating device and enough space for it to work inside the hull, mechanical traps are relatively large.
A thermostatic trap was developed in response to this demand for a more compact trap.
Thermostatic traps include a temperature sensor mechanism. These are sometimes operated by a bimetallic ring, but each mechanism has a very slow response.
This slow response makes them unsuitable for use in thermal processes that require rapid condensate evacuation.
For this reason, a thermostatic type trap for use is currently a bimetallic type temperature control trap designed for steam detectors with this feature that allows the condensate discharge temperature to be adjusted.
In response to the slow response defect of the thermostatic trap, a balanced pressure type trap has been developed which, based on its function, uses the expansion and contraction of an enclosed thermal fluid.
Changes in thermodynamic traps 
In response to the thermostatic trap, which although compact and has a slow response problem, a thermodynamic trap was developed to respond to the need for a trap that allows for the accumulation of low condensate.
However, the type of impact that was very common at first had a high rate of steam loss, so the extended type of disc was later used as the main track.
This disc trap is not only compact and versatile, but also has the advantage of having a relatively low initial cost and is the most widely used type of trap in the history of steam traps.
The continuous evolution of modern traps 
The 3 types of steam traps discussed above are used today as described.
But how do these modern traps evolve today?
The evolution of each type of trap focuses on improving the specific characteristics of a particular type of trap.
For example, many traps now feature an automatic air vent to automatically evacuate the primary air at start-up.
This feature is intended to reduce startup time as well as reduce the amount of work involved in operating the valve.
There are also models of traps for use in equipment that are equipped with high-performance automatic air valves to remove hot air during operation.
In terms of ease of use, a model has been developed that has a scale removal function to allow clots to come out without the need for separation.
This feature makes it possible to clean the clots and return them to normal operation at the same time and place where the clots are found during the daily examination, instead of having to plan for subsequent repairs or trap replacements.
Thus steam traps are constantly evolving in ways that are hidden from view.
Rose Calibration Company in Melbourne, Australia with over ten years of experience provides all calibration, maintenance, and repair services throughout Australia. If you live in Sydney, Melbourne, Adelaide, Perth, Geelong, and Brisbane, you can receive your quote in less than two hours by fill-up the form via the "Booking" link.