Function generators are a kind of laboratory tool in the field of electronics and telecommunications that can create common and desired waveforms such as sine, square, pulse, triangular, sawtooth, etc.
A generator function is used to test the response of circuits to input signals, a circuit that produces different voltage patterns at different frequencies and amplitudes. Generator function is a special type of signal family of generators that, unlike RF generators and others, which only generate sine waves, are capable of producing a variety of repetitive and arbitrary AWG waveforms.
A simple generator function can change the properties of waveforms, pulse lengths, signal polarity or ramps, and the different edges of triangular or toothed waveforms. But it is only able to generate waveforms embedded in the generator function. The user should note that this device can not be programmed to create additional and desired waveforms and must provide a more advanced generator function called arbitrary waveform generator (AWG).
In addition to generating waveforms, these devices are also a test tool and have the ability to add a DC offset to the signal.
Usually Function Generators can only operate at relatively low frequencies, some only operate at frequencies around 100 kHz, but more advanced types operate at higher frequencies, 20 or 30 MHz, and sometimes several gigahertz.
To buy different types of generator functions and laboratory oscilloscopes, you can refer to the following link or contact our technical and sales partners.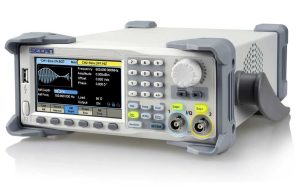 Types of generator functions
There are various types of generator functions on the market that have their properties and characteristics combined with modern digital technology.
"Desktop function generators and signal generators" are the most widely used types of wave generators with laboratory function, a test instrument that is placed in rectangular cube boxes on the tables of electrical, telecommunication and electronics laboratories or research industries and mainly includes power supply, controller. , Display, output connector and more.
"Wave and power signal generators" are another form of signal generator family that are closed in factories, industrial environments, or inside rocks and shelves. Another model of signal generators is used as a "generator function card" inside the slots of PXI rack systems. The PXI rack system has been developed specifically for experimental applications and includes slots for different cards for controllers or a connection to a computer. Test cards can include any type of test tool, including a voltmeter, oscilloscope, and of course the function of generators, and so on.
"USB Generator Function" These devices are signal or small wave generators as testing tools based on USB ports. Often the core of these generators is based on a USB module that is controlled by connecting to a computer and special software.
"Computer Software-Based Signal Generators" A different approach to computer software used to provide the required waveforms and output of a computer sound card to generate a signal. In this particular case, the accuracy of the wave generation may not be sufficient, or in case of incorrect connection, the sound card may be burned and repairs may be made and additional costs may be imposed.
Common waveforms in a variety of functions or signal generators
Wave generators are capable of producing a variety of duplicate waveforms, generally listed.
Sine Wave : A generator function can usually act as a sine wave generator. This waveform oscillates standardly between two surfaces with a sinusoidal shape. Using a variety of signal generators as a sine wave generator is one of the common applications of this equipment.
Square Wave : Another very common waveform that contains a signal that travels directly between the upper and lower levels . Signal generators provide a very useful source for basic digital waveforms.
Pulse : Pulse waveform is another type that can be generated by a generator function. This waveform is practically similar to a square wave, but the bandwidth of each polarity is different from the square wave, which is 1: 1.
Pulse wave is often used in digital applications.
Triangular Wave : This waveform is often generated using an op-amp operational amplifier. The triangular waveform generator usually also has a square wave output and is used as the basis for generating all waveforms in a generator function.
Triangular waveforms are often used to test amplifiers. It is much easier to see the distortion and cut in the triangular waveform than the sine waveform.
Sawtooth Wave: The sawtooth wave is a triangular waveform, but with a faster or slower ascending edge, this process creates a saw-like shape.
These waves are the main forms produced in the form of a simple generator function. These waveforms meet most testing needs. Where specialized waveforms are required, an AWG custom waveform generator should be used.
Rose Calibration Company in Melbourne, Australia with over ten years of experience provides all calibration, maintenance, and repair services throughout Australia. If you live in Sydney, Melbourne, Adelaide, Perth, Geelong, and Brisbane, you can receive your quote in less than two hours by fill-up the form via the "Booking" link.