WIKA thermometer
Vika bimetal thermometers are of the contact type and are among the most widely used temperature measuring devices and are used in most devices such as iron or samovar thermostats or water heater temperature indicators.

Vika thermometer model R52&A52
Vika Model 52 thermometer with the ability to measure temperature in the range of -30 to 500 degrees Celsius, has been designed and built for use in designing pipelines, manufacturing industrial devices, shipbuilding, machine building, etc.
This series of WIKA bimetal thermometers can be used with or without a thermowell. This factor has made it possible to use this thermometer to measure the temperature of liquids and gases.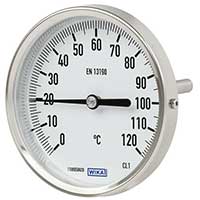 Specifications of Wicca thermometer
Made in 2.5cm to 16cm sheets
Measurement range: -30 to 500
Trail from 5 cm to 50 cm
Material: ST316L
Accuracy: 1 percent
Vertical connection and horizontal connection
Wika model S55
WIKA  thermometer model S55 with the ability to measure temperature in the range of -70 to 600 degrees Celsius, is made and designed to be used in design pipelines, construction of industrial devices, chemical industries, food industries, petrochemical…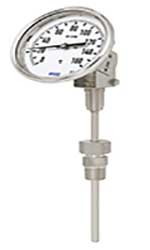 Wicca non-metal thermometers
Industrial examples with a shape similar to a pressure gauge (pressure gauge) with a sequence that can be from below or from the back depending on its use, and steel or brass, and the diameter of the plate is usually 5 to 10 and 15 cm, the temperature range that The ability to use these thermometers is usually from minus 40 to a maximum of 300 degrees Celsius, one of the advantages of using this thermometer is its cheap price and simplicity of operation compared to digital models.
Principles of operation of non-metal thermometer
The temperature is measured by a bimetallic system inside the thermometer stem. The bimetal system consists of two metal strips connected together that have different expansion coefficients, so one strip expands faster than the other, causing the bimetal strip to bend according to its temperature, the bimetal system spirally It is placed in the stem and heated for long-term stability.
Checking the performance of bimetal
Temperature changes cause the opening and closing of the bimetallic strip, which in turn rotates the hand, in other words, under or behind the thermometer, there is a stem, which is originally a part of the thermometer that is in contact with the fluid and measures the temperature of the environment. receives, now the bimetal system is placed inside the stem and the end of the bimetal is fixed to the end of the stem.
Wicca hand thermometer
The central part of the bimetal is also connected to an axis, which is connected from the outside to the hand that is supposed to show us the temperature, as the temperature increases and decreases, the bimetal system starts to rotate and collect or It opens, since this twisting takes place around the central axis of the metal, so it rotates the gauge hand that is connected to it around its axis.
The price of Wicca hand thermometer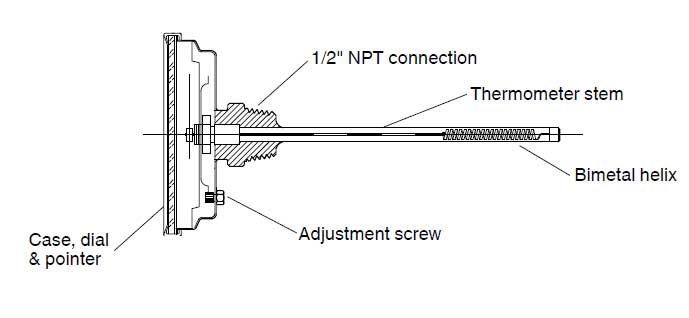 The shape of the internal structure of the thermometer, including: "thermometer stem", "non-metal spiral", "setting screw", frame, "graded plate", hand and connections.
General characteristics of non-metal thermometers
The 304 series stainless steel housing and frame is strong and corrosion resistant, designed and built to provide a rugged seal (4X NEMA, 65 IP) that prevents rusting and moisture-induced crystal damage to workpieces. . The maximum chamber temperature should always be kept below 200.
It is made of aluminum with a matte white finish to reduce glare and anti-parallax, that is, an effect whereby the position or direction does not vary when viewed from different positions. If it is equipped with a dual scale, the lower inner dial It is concave with degrees Celsius and the upper outer dial is concave with degrees Fahrenheit and shows both scales accurately.
In the adjusting screw part, a wrench or a screwdriver can be used to calibrate the thermometer field, this feature allows maximum accuracy in a selected area of ​​the temperature range, the O-ring gasket prevents leakage and tight sealing. creates
Vika is a manufacturer of non-metal thermometers 3.40 B ASME, which is standardized by the American Society of Mechanical Engineers.
The window is optically clear and the glass is strong and compact to maintain integrity, acrylic and Lexan windows are available as an option, but not recommended for enclosures with temperatures exceeding 200 max (150 for plastic/acrylic window). to be
Lightweight and balanced aluminum finished in matte black.
304 stainless steel is welded to the tip and housing connector to prevent leakage, standard inch diameter is available in inches, stem lengths up to 72 inches are available as well as 316 stainless steel stem and connector assemblies. .
In order to accurately read temperatures, immerse the stem at least 2 inches in turbulent liquid or 4 inches in moving air or gas.
Temporarily, the upper or lower limit of 50% of the maximum scale up to 500 or 260 does not affect the accuracy of the device.
A highly sensitive spiral temperature sensor that is carefully sized, tested and heat treated in order to lose inherent stresses and ensure continued accuracy, a group of industrial and metalworking processes that change physical properties and Sometimes chemical material is used.
It guarantees an accuracy of 1% of full scale.
A neutral gel to minimize hand movement.
Vika extends a 7-year warranty on all types of standards 30, 31, 50, 51, 32 and 52, such units are guaranteed to be free from any defects in materials and workmanship under normal service and use, Vika for all Other models set 1 year warranty. Full details are available upon request.
Filled thermometer policy
Silicone fillers are available in select varieties for ranges between -40℉ and 500℉, Wicca recommends the use of filled tools for continuous use at operating temperatures above -400℉ (204℃) or below -100℉ (-70℃). DOES NOT RECOMMEND, UNDER NO CIRCUMSTANCES WILL THE INSTRUMENT WARRANTY APPLY OR WICA WILL ACCEPT ANY RESPONSIBILITY FOR THE USE OF THESE TEMPERATURES MENTIONED ABOVE, AS PER THE STANDARD USED FOR FILLED THERMOMETERS, DUE TO THE EXPANSION OF THE FILLED LIQUID. and potential breakage of lenses, flat glass windows should not be used.
Note: For stem lengths longer than 24 inches, consult the factory.
Rose Calibration Company in Melbourne, Australia with over ten years of experience provides all calibration, maintenance, and repair services throughout Australia. If you live in Sydney, Melbourne, Adelaide, Perth, Geelong, and Brisbane, you can receive your quote in less than two hours by fill-up the form via the "Booking" link.