Anemometer
An anemometer is a tool for measuring the speed of air flow in the atmosphere, in wind tunnels and in other gas flow applications.
There are different types of anemometers that work in different ways.
What is an anemometer and how does it work?
Most anemometers work over a period of time by counting the number of rotations in their circular array, including cups, windmills, and blades.
These measurements are then interpreted to calculate wind speed in units such as miles per hour, kilometers per hour, meters per second, or in the case of boating applications in terms of "knots".
Most anemometers fall into one of two general categories: "turbine anemometers" and "cup anemometers".
In both cases, they count the number of revolutions per second because the wind blows through them and moves their parts.
The anemometer is able to calculate the wind speed in a common unit of measurement by evaluating the speed of rotations.
There is also a third type of anemometer called a "hot wire anemometer" that heats a component and then measures the cooling rate of the component.
The fourth rarest type of anemometer is the "ultrasonic anemometer".

What is an anemometer used for?
An anemometer is for measuring wind speed.
Some anemometers are made larger and more sophisticated at meteorological stations that include a variety of other instruments that can provide weather forecasts based on a combination of all the data.
For example, an anemometer may be used to measure the amount of wind before going on a boat, or an air conditioning repair technician may use an anemometer to measure the output of a faulty unit.
A meteorologist may use anemometer data for his predictions.
An anemometer is also used to calculate the opposite wind.
A wind turbine sensor may use a handheld portable anemometer to determine if a particular area is windy.
What is the unit of measurement of an anemometer?
Anemometers measure wind speed in different units.
In general, a more expensive and sophisticated anemometer offers more units of measurement.
Anmometer units of measurement may include:
MPH or mph

Km / H or kilometers per hour

Knots for sailing

Feet per minute

Meters per second
What is an ultrasonic anemometer and how does it work?
Ultrasonic anemometers measure wind speed.
They do this by sending an audio pulse back and forth from a transmitter to a receiver to calculate the wind speed between two sensors.
Ultrasonic anemometers are highly specialized devices and are more expensive than other common anemometers, such as turbines, cups, or hot wires.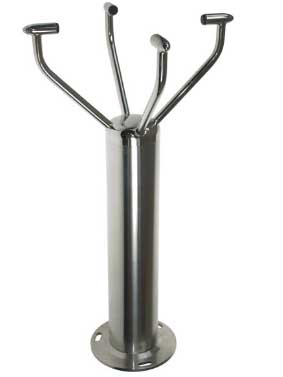 Figure 1: Ultrasonic anemometer
How to use an anemometer for reading?
In most electronic anemometers, you just have to turn on the device and observe the wind speed.
You can also change the wind speed display mode to a different unit of measurement (for example, km / h instead of mph).
In the case of manual cup anemometers, the number of revolutions of the cups per minute can be calculated to calculate the wind speed.
How do cup anemometers work?
Cup anemometer calculates the number of times the wind rotates a set of cups around a circle over a period of time to calculate wind speed.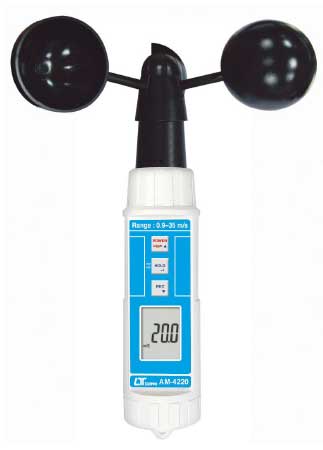 Figure 2: Cup anemometer
What is the accuracy of the anemometer?
Different anemometers have different levels of accuracy.
In general, higher accuracy can be expected from a more expensive device.
The accuracy range of manual and suitable quality anemometer is 3%.
This means that if the wind is blowing at 20 mph, the device may record anywhere between 19.4 MPH and 20.6 MPH.
Specialized scientific anemometers such as ultrasonic anemometers may have a higher accuracy range.
Where should the anemometer be placed?
There are two types of anemometers.
Some are manual and portable and some are installed in a fixed location.
For the most accurate readings, it is best to place the anemometers in places that are not surrounded by obstacles such as trees, buildings, and so on.
For example, the worst absolute point for an anemometer is to be placed directly next to a building or wall.
Anemometers are sometimes installed at the top of columns, on top of buildings or in large open spaces.
Does the anemometer measure wind direction?
Some anometers measure the direction of the wind.
These anemometers often rotate or have an additional turbine attached that detects the wind direction.
In general, higher and more expensive model anemometers measure both wind speed and direction.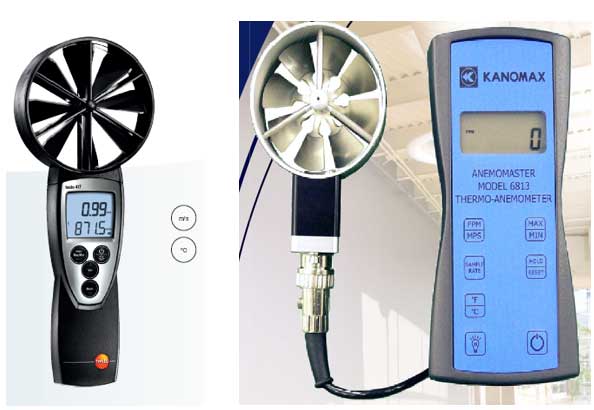 Figure 3: Turbine anemometers
How does an anemometer measure wind speed?
Most anemometers have a moving part that rotates in the wind, so that in more intense winds, it rotates more.
The anemometer counts the number of revolutions per second or minute (or any other distance) and then shows the wind speed in terms of the unit set for reading.
In what sciences is an anemometer used?
Meteorologists, for example, use anemometers to calculate wind patterns.
Renewable energy scientists and engineers may use hand-held anemometers to see if a particular location is suitable for a wind turbine.
Other laboratory equipment test scientists may use specialized types of anemometers.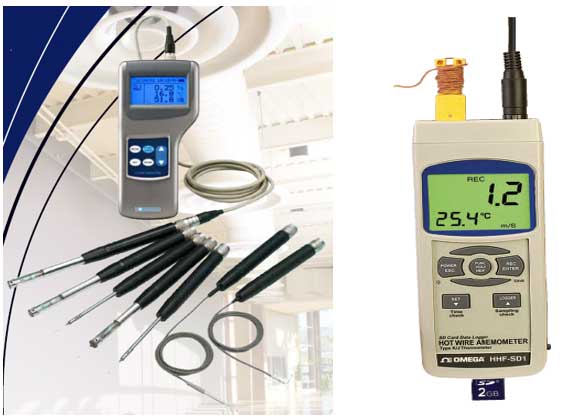 Figure 4: Types of hot wire anemometers
Rose Calibration Company in Melbourne, Australia with over ten years of experience provides all calibration, maintenance, and repair services throughout Australia. If you live in Sydney, Melbourne, Adelaide, Perth, Geelong, and Brisbane, you can receive your quote in less than two hours by fill-up the form via the "Booking" link.