Manifold valve:
Valves are one of the most important components of fluid-based industrial systems.
These valves perform a variety of functions from fluid flow control to pressure regulation. These valves are available in several different configurations.
The most important items are pneumatic check valves, high pressure needle valves, ball valves and که which are used.
In special circumstances two or more different needs must be met. This requires the use of two or more valves in a single location in the system.
However, this can be inefficient as it will take up double space. So this problem was solved with a multi-purpose design.

Manifold valve though
Manifolds
Are devices that connect two or more valves of hydraulic systems.
Types of valves can be combined in a single configuration. Each of these valves opens separately from below to connect to the pipe.
The main body or compartment is common to all.
These manifolds include ball valves, needle valves and outlet valves.
Using these manifolds saves space and installation costs.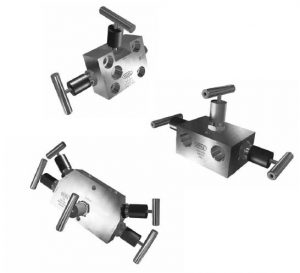 Advantages of manifold valves
Manifold valves are used in a number of different applications, from mobile devices to heavy industrial equipment.
Manifold valves in the fluid control and regulation system have shown improved efficiency as well as reduced energy costs.
Other benefits include:
Short flow paths that reduce pressure drop and heat fluctuations and improve the overall energy efficiency of the system.
Reduce installation costs as well as fluid connections due to simpler and more compact design.
Minimal occurrence of oil spills due to fewer connections, reduced need for subsequent maintenance against fatigue, wear and loss of connections.
Improved design due to low pipes and fittings.
Small, compact cartridge size that fits in confined spaces.
Types of 

manifolds though



High quality manifolds are made of 316 stainless steel. These valves are available in three different configurations.
Two-way manifold valves (Series-MFV2) are mainly used for general services, standard pressure measuring devices and pressure difference, pressure equalization and..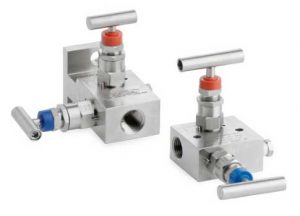 Three-way manifold valves (Series-MFV3) are mainly involved in pressure and pressure difference tools.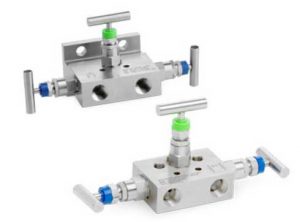 Five-way manifold valves (Series-MFV5) are also used in pressure and pressure difference tools.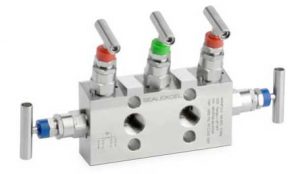 BUNNET 

standard design 

for safe and reliable operation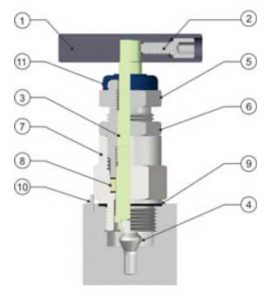 Handle. To operate and control the flow of the valve.
Set Screw. Lock the handle to the stem.
Stem.
A: Stem threads for excellent performance and extended service life.
B: Glossy stems in the packing area to ensure low torque valve performance and reduce packing wear.
Stem Tip.
Packing Adjuster.
Lock Nut.
Bonnet or cap that is screwed directly to the main body.
Packing. Packing under the threads protects the fluid flow from lubricating contamination on the threads. It also protects the stem threads from the damaging effects of the fluid environment.
Washer for sealing between the body assembly and the cap.
Locking Pin. In order to prevent loosening or separation of the valve.
Dust Cap or dust cover that protects the stem from foreign particles.
Rose Calibration Company in Melbourne, Australia with over ten years of experience provides all calibration, maintenance, and repair services throughout Australia. If you live in Sydney, Melbourne, Adelaide, Perth, Geelong, and Brisbane, you can receive your quote in less than two hours by fill-up the form via the "Booking" link.