Pressure sensor
pressure sensor
Today, in the industry, we see pressure transmitters on the processing lines of various sites. In lines that generally have safe environmental conditions, there is no need to read the amount on the spot or the periodic operation of the operator with the device is not considered, can be Used pen pressure transmitters.
Industrial pressure sensor
These transmitters are installed on the process line with the help of a ½ "connection and after measuring the pressure (with the help of diaphragm, piezoelectric or capacitive sensors), they send the relevant signal in the form of 4 to 20 mA to the control room.
These devices are capable of measuring pressure up to about 1600 bar.
Some specimens can be measured up to 15,000 times, and are found in most ranges on the market.
The measurement accuracy of these sensors is generally between 0.1 and 0.5%, which will be acceptable.
Some of these devices are made according to explosion-proof standards, and for example the Ex d and Ex I standards are made by some manufacturers.
What is a pressure sensor?
What is a sensor?
The sensor can be defined as a device that can be used to sense or detect a physical quantity such as force, pressure, traction, light, etc., and then convert it into a desirable output such as an electrical signal to apply the physical quantity. To measure.
In some cases, one sensor alone may not be sufficient to analyze the signal obtained.
In those examples, a signal optimization system is used to maintain the sensor output voltage in the desired range according to the final device we use.
In the signal preparation unit, the sensor output may be amplified, filtered, or changed to the desired output voltage.
Industrial pressure sensor price
Digital pressure sensor
For example, if we consider a microphone that detects an audio signal and converts it to an output voltage (in millivolts), it becomes difficult to start an external circuit .
Therefore, an output optimization unit, an amplifier, is used to increase signal strength.
But a tailored signal is not necessary for all sensors such as light-sensitive diodes, LDRs, etc., most sensors can not operate independently. Therefore, sufficient input voltage must be applied to it.
Different sensors have different operating ranges that must be considered when working with them, otherwise the sensor may be permanently damaged.
Types of pressure sensors
Industrial air pressure sensor
Industrial water pressure sensor
Thermocouple (means of measuring temperature difference).

Hall sensor (magnetic field detection).

IR sensor (IR / IR LED transmitter 

).

Pressure gauge (pressure sensor).

Resistance of light function (variable with light).

Load cells (weight sensor).

Weight, force and pressure sensors.

Photodiode (IR receiver).

Heat resistance.

Ultrasonic sensor.

Position sensor.

Speed ​​sensor.

Touch sensor.

Sound sensor.

Flux sensor.

PIR sensor.

accelerometer.

Light sensor.

temperature sensor, thermometer.

Potentiometer

Microphone

Gas sensor

Inkuder
Selling pressure sensor Page 
not 
contribute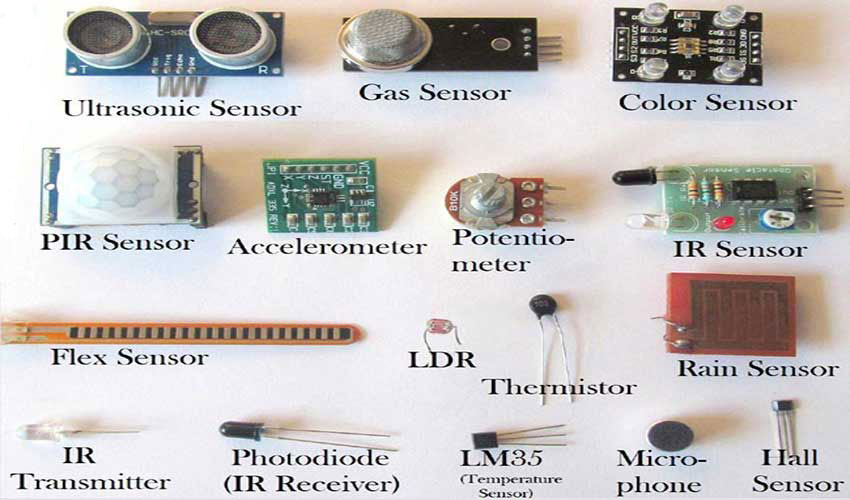 pressure sensor
A pressure sensor generally measures the pressure of a gas or liquid  .
Pressure is the so-called force required to prevent liquid from spreading and is usually defined as the force on the surface.
The pressure sensor usually works as a converter and produces a signal as a function of the pressure effect.
For this purpose, an electrical signal can be considered. Daily pressure sensors are used to control and monitor thousands of applications; pressure sensors can be used indirectly to  measure other variables.
Accurate pressure sensor
For example: fluid / gas flow rate, velocity, liquid level and height are these variables. Also called pressure sensors, pressure converters, pressure transmitters, pressure transmitters, pressure indicators, piezometers and manometers, and so on.
Pressure sensors vary in technology, design, performance, application and price. A conservative estimate is that more than 50 technologies and at least 300 companies around the world make pressure sensors.
Pressure sensor price
There is also a class of pressure sensors designed to measure the dynamic state of rapid pressure changes.
An example of the use of this type of sensor can be seen in measuring the combustion pressure of the engine cylinder or turbine gas. These sensors are mainly made of piezoelectric materials such as quartz.
Some pressure sensors, such as those seen in traffic control cameras, work binary and on / off.
For example, when pressure is applied to a pressure sensor, the sensor disconnects or disconnects an electrical circuit. These sensors are known as pressure switches.
Types of pressure measurements
Pressure sensors can be classified based on the measuring range, operating temperature range and most importantly the type of measuring pressure.
According to the type of pressure, barometers are classified into 5 categories:
Buy industrial pressure sensor
Absolute pressure sensor
This sensor measures the pressure of a point relative to a complete vacuum (0 psi). Atmospheric pressure is 101.325 KPa (or 14.7psi) above sea level relative to vacuum.
Gay pressure sensor
This sensor is used in different applications because it can be calibrated to measure the pressure of one point relative to atmospheric pressure at another point.
Tire pressure gauge is an example of a gauge pressure gauge.
When the tire pressure gauge reads 0 psi, the pressure inside the tire is 14.7 psi. That is equal to atmospheric pressure.
Vacuum pressure sensor
This sensor is used to measure pressure less than atmospheric pressure at a specific point.
Vacuum sensor reference is different in the industry which may cause error; Pressure relative to atmospheric pressure (such as measuring negative gauge pressure) as well as pressure relative to vacuum pressure.
This sensor measures the difference between the pressures of two or more points, which are introduced as inputs.
For example, measuring the pressure drop in an oil filter. Differential pressure is also used to measure flow or surface area in tanks.
Industrial pressure sensor seller
The pressure sensor is sealed ( 

sealed 

)
This sensor is similar to a gauge pressure sensor, except that it has already been calibrated by the manufacturer to measure pressure relative to sea level pressure.
Basic classification for pressure sensors
Types of force collectors: These types of electronic pressure sensors generally use a force collector (such as diaphragm, piston, bourbon tube) to measure traction based on applied force and surface pressure.
Piezzo resistor tension gauges
Uses the effect of a piezistor of tension gauges placed on a support to determine the tension due to the applied pressure.
Common technologies of silicon (monocrystalline), thin polysilicon shell, metal sheet placed on the support, thick sheet. Traction gauges are usually connected in a Westton-Bridge circuit structure to maximize sensor output.
This is the most common technology used for general purpose pressure measurements.
These technologies are adapted to measure absolute pressure, gauge, vacuum and differential pressure.
Types of industrial pressure sensors
Diaphragms and pressure cavities are used to create variable capacitors to determine the tension due to applied pressure. Conventional technologies use metal, ceramics, and silicon diaphragms. These technologies are used for low pressures (absolute, differential and gauge)
Capacitive pressure sensor
In a capacitive pressure sensor, differential pressure is applied to the diaphragm, which causes the diaphragm to move closer to one of the capacitor plates and away from the other. Therefore, the capacitance of the capacitor changes, which is proportional to the pressure applied to the diaphragm. The change in capacitance of the capacitor is converted into an electrical signal by the electrical circuit and the transmitter, which is calibrated in units of pressure.
Diaphragm displacement is measured by changes in inductance (Lluctance), LVDT, Hall effect, or eddy current law. The induction pressure sensor shown in Figure 5-12 has two windings coupled to a magnetic core. When the applied pressure moves the diaphragm, the nucleus shifts, the inductive property being measured by electronic circuits such as resonant circuits.
The piezoelectric effect in certain materials such as quartz to stretch the stress measure, the technology for measuring pressure dynamic is used, a variety of crystals called piezoelectric effect mechanical deformation an electrical signal that makes voltage level This signal is proportional to the amount of deformation.
Bizoelectric pressure sensor
The crystal is attached to a metal diaphragm. One side of the diaphragm for measuring pressure, in contact with the process fluid and the other side of the diaphragm mechanically crystal is connected, the signal output voltage crystal small amplitude is (in mV) after an amplifier with high input impedance to work be taken in order to prevent signal loss, the amplifier should be installed near the sensor, crystal tolerates temperatures up to 400 ° F, temperature changes can affect crystal so temperature compensation is required.
Uses physical modification of optical fiber to determine the stress due to applied pressure, for example in Fiber Bragg Grating, this technology is used in applications that are challenging, for example in inaccessible places, High temperatures or in technologies inherently immune to electromagnetic interference and remote measurements.
It uses the movement of the brush during the resistance mechanism to determine the traction due to the applied pressure; other types of electronic pressure sensors use other properties (such as density) to determine the pressure of gas or liquid.
Applying pressure changes the density of the gas and it also changes the resonance frequency. To use this technology, a "force collector" tool can be used, as mentioned above, and the resonant element can also be used. Directly exposed material. In this case, too, the oscillation frequency depends on the density of the material.
Resonance pressure sensor
The sensors are made of oscillating wires, oscillating tubes, quartz, and micro-electromechanical systems (MEMS), all of which are characterized by a stable output.
By applying pressure to the gas, its density changes and, consequently, its thermal conductivity changes. A common example of these sensors are Pirani gauges.
By applying pressure to the gas, its density changes, and consequently, the flow of ions in it changes. Common examples of this type of sensor are cold cathode and hot cathode gauges, and there are other ways to deduce pressure through density. (Sound speed, mass, refractive index).
Application of pressure sensors
Application of industrial pressure sensors
Pressure sensors have many applications, including:
This application is the direct application of pressure sensors that are used in cases such as meteorological equipment, aircraft, cars and other devices in which pressure is applied.
It is used in airplanes, missiles, satellites, meteorological balloons, etc. In all these applications, the relationship between pressure changes and altitude relative to sea level is used. This equation is set for altimeters up to an altitude of 36,090 feet (11,000 meters). Outside this range, we will see an error, this error can be calculated for different pressure sensors.
Buy a variety of industrial pressure sensors
The cause of this error is changes due to temperature at higher altitudes, altimeters with pressure sensors have a resolution of less than 1 meter, and their resolution is better than altimeters with GPS system (which has a resolution of 20 meters), In positioning applications, it is used to identify hilly roads (for car positioning) or the height of building floors (for pedestrian positioning).
The flow can be measured with the help of the venturi effect and its relationship to pressure. The pressure difference between the two parts of a net tube (with different orifice diameters) is measured. This pressure difference is directly related to the velocity of the flow through the tube. Because this pressure difference is relatively small, a low-interval pressure sensor is used.
A pressure sensor can be used to measure the height of a liquid, usually using this technique to measure the location of a body immersed in water (such as divers, submarines) or the height of a liquid inside a tank (such as a liquid inside a water tower). Used.
For most practical applications, the liquid level is proportional to the pressure.
Buy and sell industrial pressure sensors
In cases such as "fresh water" that is under atmospheric pressure, we have:
1psi = 27.7 in H2O
1pa = 9.81 mm H2O
The main equation for this measure is the following equation:
P = ρ * g * h
p = pressure ρ = fluid density g = gravity h = sensor pressure above the column height fluid
Pressure sensor leak test
Industrial pressure sensor test
System leakage can be measured by measuring the pressure drop.
In this case, common methods are considered for this purpose, which are generally two methods:
Comparison of system pressure with system pressure with known leakage and use of this pressure difference.

Measuring pressure and examining its changes over a period of time.
Rose Calibration Company in Melbourne, Australia with over ten years of experience provides all calibration, maintenance, and repair services throughout Australia. If you live in Sydney, Melbourne, Adelaide, Perth, Geelong, and Brisbane, you can receive your quote in less than two hours by fill-up the form via the "Booking" link.