A tachometer is a device that measures the number of rotations of a part in a given period of time. This device is usually placed on devices that want to measure the number of revolutions of the crankshaft in the engine.
The word comes from two Greek words: taco meaning speed and meter meaning size.Tachometer Commonly used in sports cars, airplanes, large cranes and ships to measure engine speed.
Types of tachometers or telemeters
1) Electric tachometer:
Electric tachometer is designed to measure sine waves, frequency or input pulses. The input waves are cut and shaped by detectors and then passed through a throat circuit (gate) to display numbers. The opening time of this throat circuit (gate) is controlled by a crystal oscillator. The counter display measures the number of pulses that pass through this gate at a given time.
2) Electric tachometer, generator:
A broader and more consistent example of electric tachometers involves a combination of generators and detectors. There are two main forms for this example: a DC generator with a DC voltmeter and an AC generator with an AC voltmeter (DC voltmeter with a mattress). In both cases the DC voltmeter is proportional to the axis speed.
3) DC current tachometer (DC):
The direct current tachometer is a small stable magnetic generator with an output of 2 to 10 volts per minute. A high-resistance voltmeter, which is calibrated at every minute per minute, indicates the speed of this type of tachometer. Slow start of these torques Tachometer And its activity at the same low speed makes this tachometer suitable for measuring speed. In addition to measuring speed, this tachometer is a stable component of the speed mechanism (system).
4) AC tachometer (AC):
This tachometer can be formed by fixed windings and a rotating magnet field. They produce voltages and frequencies proportional to speed.
5) Opposite flow tachometer:
Opposite flow tachometer is also known as pull-pull tachometer. This device is commonly used to measure the engine speed of cars and the engine speed of aircraft. The magnetic currents generated by these opposing currents generate a magnetic field in this tachometer.
Mechanical telemeter
These types of telemeters do their job by making contact with the body. Usually, a spindle-shaped or cylindrical protrusion is installed at the end of the device to contact the rotating body, which increases the speed and the number of revolutions per minute by converting this quantity. Mechanically to electrically, for example, the attachment to the shaft of an armature can measure the amount of speed and rpm.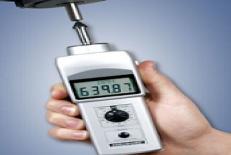 Optical or laser rangefinder
In laser optical specimens, the speed and number of revolutions per minute can usually be measured by affixing a label reflecting a radiant laser from the device.
In other examples of optical telemeters, known as stroboscopes, an interesting mechanism is used in which a flash can be moved in a stroboscope with different frequencies, and the flash starts to turn on and off and flash. In our eyes, due to the fact that it sees the image clearly in instantaneous flashes, when the flashing frequency of the device is equal to the rotation frequency of a fan, for example, it sees the rotating object as stationary and motionless, which can be the first rotation frequency. A device that represents the distance per minute or unit Telemetry rpm is obtained. A stroboscope can be used to detect defects in the surface of sheets or surfaces that have consecutive defects at regular intervals in the production line.
Application of telemeter / tachometer / stroboscope
• To measure the speed of inaccessible rotating motors
• Mobile fans, gear pumps and machines
• Automotive production lines
• Licensed devices
• To control and measure the speed of longitudinal lines such as conveyors
• To detect defects in the surface of sheets or surfaces Stroboscopes can be used if they have consecutive defects in the production line with a certain time interval.
Rose Calibration Company in Melbourne, Australia with over ten years of experience provides all calibration, maintenance, and repair services throughout Australia. If you live in Sydney, Melbourne, Adelaide, Perth, Geelong, and Brisbane, you can receive your quote in less than two hours by fill-up the form via the "Booking" link.