humidity meter
This device is used to measure the humidity, or the amount of water vapor in the air. Hygrometers are made in various forms, the most important of which include environmental and penetration hygrometers for domestic use and greenhouses, as well as industrial applications such as paper and timber industries, warehouses for storage of various wood parts and other industries that Used to deal with water and steam.
History of hygrometer
Hygrometers have been made in different shapes throughout history. The Chinese used charcoal exposed to humidity to measure humidity and compare its weight with that of the dry sample. One way to use this property is to make a hanging strip attached to charcoal and compare the effect of moisture weight on the hanging strip.1.
Italian scientist Leonardo da Vinci invented the first hygrometer in its infancy in the 15th century. This model was designed using ancient science and the effect of moisture on the weight of objects. Da Vinci used two dry cotton balls of equal weight And placing one of the cotton balls in the moisture and comparing the weight of the two pellets in the seen structure measured the amount of moisture.2.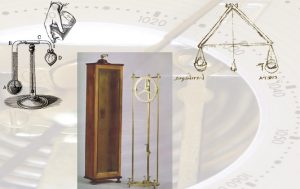 Francesco Foley invented another hygrometer in 1664.
Robert Hooke was a seventeenth-century scientist of Isaac Newton's time who invented a number of meteorological instruments, such as barometers and anemometers. The hygrometer he invented is the first mechanical hygrometer that uses barley pods to measure, which is ringed and straightened according to the humidity of the air.
Dry and wet hygrometer bubble or psychrometer
This hygrometer, also known as a psychrometer , has two mercury thermometers , one wet and the other dry. The water in a wet thermometer evaporates and absorbs heat. This lowers the water level of the thermometer. The relative humidity of RH is then measured using a spreadsheet and measuring the amount of water coming down.
In 1820, the British chemist and meteorologist John Frederick Daniel invented a dew hygrometer. This instrument was widely used to measure temperature where humid air reaches saturation point. Some hygrometers work by measuring changes in electrical resistance.
Home environmental humidity meter and greenhouse use
Today, with the increasing development of technology in residential homes and offices, the use of small and portable equipment for thermometry and humidity measurement due to air quality control is common and necessary. Humidity control of different environments is the main reason for using hygrometers and thermometers in different environments due to preventing the growth of fungi and other parasites as well as excessive dryness of the environment which causes some chronic diseases.
Greenhouse is another environment in which the use of hygrometers and thermometers is very important. Providing favorable conditions in terms of humidity, light, air and soil are the main factors for the growth and development of greenhouse plants and the lack of one of these parameters causes a slowdown in the growth and development of the monitored plant and on the other hand young plants. Propagated in the greenhouse need protection against adverse factors in order to be able to grow. In any case, failure to provide natural growth conditions for any product and its reproduction will fail. Moisture-dependent equipment in greenhouses can be enumerated by the following definition
Hygrometers or digital or analog 

hygrometers

 

are only responsible for measuring the humidity parameter in the environment.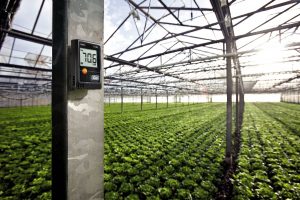 Temperature and humidity thermographs are 

other

 equipment for monitoring environmental factors that are suggested by engineers to measure humidity and temperature in greenhouses . Agricultural engineers do
Temperature and humidity controllers

 or air quality meters that have the ability to measure the humidity, temperature, airborne particles, dew and… display changes diagrams and also control equipment such as heaters and dryers or dehumidifiers and dehumidifiers and تجهیزات equipment
Wood and grain wood moisture meter ( 
Moisture Meter)
Penetration hygrometers are another type of equipment that has one or two needles or nails that are used to measure the amount of moisture in solid objects such as gypsum, soil, sawdust, etc. This type of hygrometer is based on electrical properties. Solids, which are mainly electrical resistors, are made. The two-pin model of these hygrometers works based on the dielectric properties of gypsum wood and other solids that have a similar function to electrodes.
Infiltration hygrometers are used to measure the dryness or wetness of various woods such as beech, pine, walnut and other woods that can be used to make furniture, wooden floors, construction or for construction projects in the timber and ال timber… Infiltration hygrometer of solids is used in measuring the moisture content of gypsum and gypsum structures as well as soil moisture in greenhouses and cereal agriculture such as wheat rice and….
Rose Calibration Company in Melbourne, Australia with over ten years of experience provides all calibration, maintenance, and repair services throughout Australia. If you live in Sydney, Melbourne, Adelaide, Perth, Geelong, and Brisbane, you can receive your quote in less than two hours by fill-up the form via the "Booking" link.