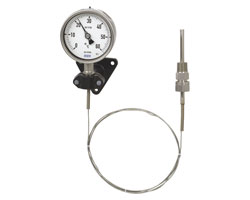 What is a gas thermometer?
Temperature is measured by a gas thermometer or thermometer based on changes in pressure or bubble volume.
The material of the gas bubble gauge is glass, porcelain, quartz, platinum or platinum-iridium. The material of the bubble gauge depends on the temperature range used by the thermometer.
A mercury pressure gauge or manometer is connected to the bubble by a capillary tube.
The German company WIKA is one of the most famous manufacturers of instrumentation and process control equipment in the world.
The company's products include instruments for measuring pressure, temperature and ……. Is .
Wika currently has a network of hundreds of companies in more than 40 countries.
WIKA is currently the largest manufacturer of temperature and pressure measuring instruments in the world.
The most famous equipment used by this company in the country's industry are manometers, thermometers and pressure transmitters.
Types of gas thermometers
Constant pressure gas thermometer

Constant volume gas thermometer
Constant volume gas thermometer
In constant volume gas thermometers, changes in the height of the mercury are made so that the surface of the mercury on the left is always in contact with the indicator point.
The sum of the pressure from altitude h and the atmospheric pressure is equal to the gas bubble pressure (P2).
By adjusting the height of the mercury column, the gas volume is kept constant.
This space is known as dead space or fixed volume.
Constant pressure gas thermometer
How a gas thermometer works at a constant pressure is that some gas is in a certain and constant volume and its pressure is controlled and measured using a barometer.
At a constant volume, as the temperature of the gas increases, so does its pressure.
By calibrating it correctly, by measuring the pressure at any moment, its temperature will also be obtained.
Rose Calibration Company in Melbourne, Australia with over ten years of experience provides all calibration, maintenance, and repair services throughout Australia. If you live in Sydney, Melbourne, Adelaide, Perth, Geelong, and Brisbane, you can receive your quote in less than two hours by fill-up the form via the "Booking" link.