What is a data logger?
A data logger is  a compact device with a battery that is equipped with an internal microprocessor, data storage, and one or more sensors or sensor ports.
Data loggers can be installed in different environments to record measurements at specified intervals for up to several years without care at a time.
Depending on the type of data logger, measurements can include air temperature, relative humidity, AC / DC current, voltage, differential pressure, light intensity, water temperature, water level, dissolved oxygen, and so on.
A data logger can be a single, stand-alone device that sits in the palm of your hand, or a multi-channel data collection tool (multiple inputs and outputs) equipped with one or more external sensors.

How to use a data logger?
First connect to the data logger using the analysis software and then determine how you want to configure the logger (what sensors for example, how to start your logger and how to stop it,…) then install the logger in the selected position Where it records time in measurement and stores it in memory.
. After the monitoring period, reconnect to the logger and use the software again to read the data and display the measurements in the graphs that the profiles show over time.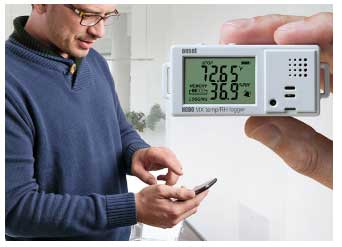 Where are data loggers used?
Data loggers are used in a wide range of indoor environments, open spaces, underwater and temperature controlled environments, especially where data is needed.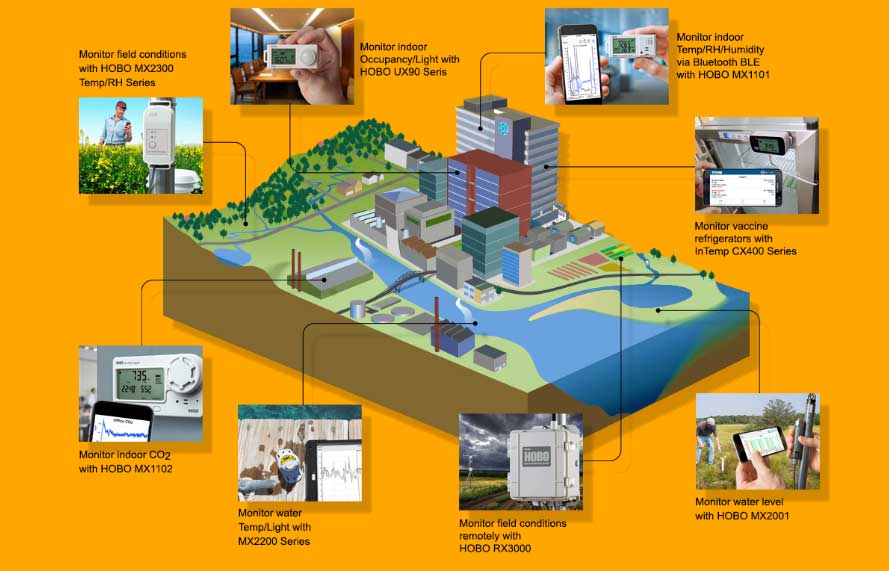 Different types of data loggers 
The four main types of data loggers are:
1- Independent USB data loggers
2- Low power Bluetooth data loggers (BLE)
3- Web-based systems
4- Wireless sensors
USB data loggers
Bluetooth Low Energy -enabled loggers
Web-based data logging systems
Wireless sensors
1 – Compact and compact standalone USB data loggers , reusable and portable and low cost and easy to set up and install.
Internal sensor models are used for on-site monitoring of the data logger, while external sensor models (with flexible input channels for a wide range of external sensors) can be used for monitoring at some distance from the data logger.
These standalone USB data loggers communicate with a computer via a USB interface.
But for the convenience of a data shuttle device, a data logger can be used to load data and transfer it to a computer.
2- BLE data loggers are also compact, reusable, portable, easy to install and other advantages are able to measure and transmit data wirelessly to mobile devices within 100 feet.
These loggers are especially useful in applications where access areas are limited or hard to reach.
Also, without damaging the logger, a tablet or mobile phone can be used to view data in charts, check operating conditions, share data files and save data.
Web-based data logger systems can be configured with a variety of external sensors and transfer the collected data to a secure web server for data access.
4- Wireless sensors transmit data from dozens of points to a central computer or gateway, eliminating the need for manual retrieval and loading of data from personal data loggers.
Types of data loggers 
1- Temperature logger 
Temperature indicators and recorders are important tools for chain maintenance.
A temperature logger monitors the temperature throughout the chain transfer and inspection process and warns in the event of a temperature-related event, prompting action to be taken before damage to the product.
These types of data loggers are often used for control and monitoring in the chain industry as well as in collecting temperature data in different working conditions.
2- Moisture data loggers 
Along with temperature loggers, most humidity loggers are used in temperature sensitive environments such as calibration rooms, warehouses, greenhouses.
These types of data loggers are specifically made of sensors that measure ambient humidity levels and warn in the event of anomalies.
3- Pressure data loggers
Pressure data loggers are used in a variety of settings to measure the pressure of gases or liquids.
They are also used for variables such as gas or liquid flow, water levels, altitude and velocity.
Depending on the environment, a pressure logger may measure the absolute pressure and / or bridge inlet to measure pressure or load.
Some data loggers may also record 3D vibration data using built-in accelerometers.
Due to the nature of the environment, pressure loggers are generally designed to withstand harsh and underwater conditions.
4- Vibrating data logger 
Also known as a seismic data logger.
A vibration data logger is a tool that can measure and record vibrations and vibrations over a period of time.
Data is usually presented digitally in the form of acceleration and time.
Records can then be retrieved and transferred for review and evaluation.
A vibration data logger consists of sensors such as accelerometers as well as the processor, storage environment and power supply.
These seismic sensors are designed to measure the effect of the overall waveform.
5- Data logger  RTD 
This type of data logger is a temperature indicator that often consists of a wire made of platinum, nickel or copper.
The wire is twisted around a glass or ceramic core and reads a very precise relationship between resistance / temperature. RTD data loggers are fragile pieces of equipment and are usually protected by probes.
Vibration data logger
Resistance Temperature Detector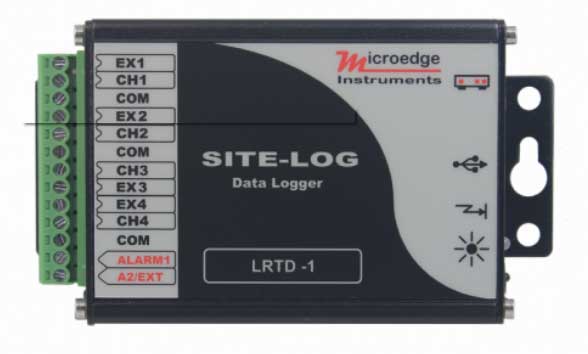 LOG Resistance Temperature Detector Data Logger (L RTD)
Rose Calibration Company in Melbourne, Australia with over ten years of experience provides all calibration, maintenance, and repair services throughout Australia. If you live in Sydney, Melbourne, Adelaide, Perth, Geelong, and Brisbane, you can receive your quote in less than two hours by fill-up the form via the "Booking" link.