Model 

CPS11D 

– 

7 

BA 

21 

by Anders Hauser
Endress + Hauser is a world leader in precision measuring instruments, services and solutions for industrial process engineering, the company supports customers around the world with a wide range of tools, services and automation solutions for industrial process engineering.
Endress + Hauser with sales centers in more than 40 countries, is always in touch with its customers, in places where the company does not have a direct presence, the representatives of this global network are able to serve quickly, flexibly and uniquely To customers.
CPS11D 

– 

7 

BA 

21 

Endress + Hauser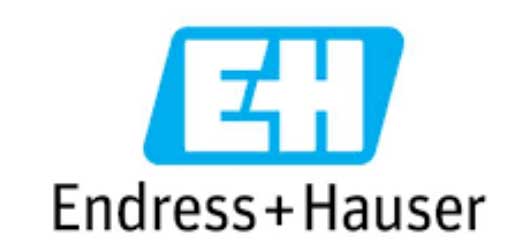 Detailed analysis of the liquid
Environmental protection, product quality compatibility, process optimization and safety are just a few of the reasons why fluid analysis is necessary; liquids such as water, beverages, dairy products, chemicals and medicines must be analyzed daily.
Endress + Hauser supports its customers in performing all these tasks with software and "advanced technology", so that the company's comprehensive collection always offers the best product tailored to the needs of the process to customers.
From standard sensors to complete measuring stations, advanced technology is provided for each fluid analysis parameter.

High-precision tools help increase product performance, improve product quality and ensure process safety.

Advanced communication interfaces and protocols enable customers to integrate their devices seamlessly into their manufacturing, business, and asset management processes.

Process laboratories use relevant knowledge and expertise to optimize customer applications.

And that Endress + Hauser, as a leading supplier of analytical measurement technology, supports customers throughout the product life cycle worldwide.
Digital 

pH 

sensor 

model 

CPS11D 

– 

7 

BA 

21

 
This sensor is made with MEMOSENS  digital technology for standard applications in process and environmental technology with a diaphragm made of PTFE (polytetrafluoroethylene) with a temperature sensor.

MEMOSENS technology 
Fluid analysis not only increases the demand for the sensor element but also increases the demand for transferring the measured value from the sensor to the transmitter.
When measuring pH, in addition to a sensor with low currents and very high internal resistances, a connection with a high apparent resistance to the transmitter is required.
Humidity in the connection can change the measured value and may even lead to measurement failure, MEMOSENS technology  by digitizing the measured value in the sensor and transferring it to a transmitter or transmitter without connection and therefore without moisture penetration It makes data transfer safe, this leap in technology to a new generation of sensors has many advantages and removes all limitations from technology to date.

MEMOSENS 

technology builds 

digital sensors by integrating data storage
Sensors with Memosens technology , calibration data and other current information that can be used for maintenance, including hours of work, minimum and maximum values measured and the minimum and maximum temperatures are stored.
When the sensor is installed, the calibration data is automatically transmitted to the transmitter or transmitter and used to calculate the current value.
Keeping at the measuring point is no longer an individual matter but instead all the information about the sensor is used.

The current use of sensors may depend on their previous history.
The connection between the sensor and the transmitter or transmitter is actively displayed – the first really definite connection
If the signal current is cut off, the transmission of the measured digital value automatically results in an error message, regardless of whether the sensor or other measurement cable is not working properly.
The availability of a measuring point has been dramatically increased and guaranteed.

Automatic sensor detection allows the sensor to be replaced without any problems.
Possibility of calibration / adjustment away from the measuring point in the measuring laboratory
Sensors with MEMOSENS technology are the first sensors that provide this possibility as a result of:
Measurement point availability has increased dramatically with the rapid and easy replacement of calibrated sensors.

With the time between detection and sensor replacement, the "shutdown period" or the period when the system is unable to provide and perform the initial operation decreases.

Self-calibration / adjustment occurs under the best external conditions in the measurement laboratory.
The first measured value is transmitted from the sensor to the transmitter without connection
Sensors with integrated MEMOSENS technology transfer the measured value from the sensor connection to the cable connection without contact, resulting in:
Always free of corrosion.

A connection system that can even be connected underwater.

Free from leakage and deviation of the measured value due to moisture.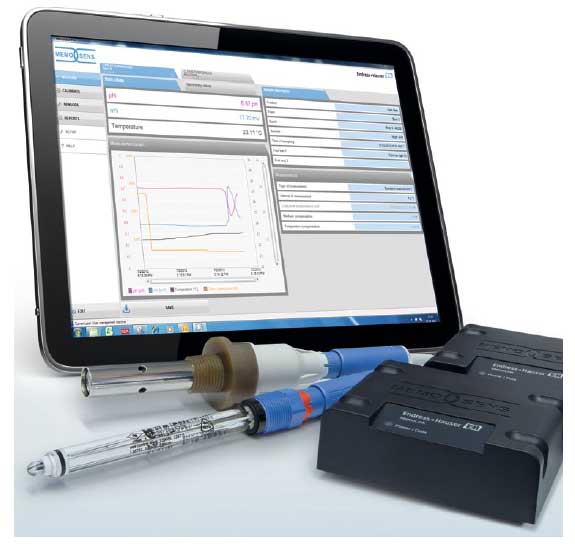 Digital pH sensor measurement parameters
 1- pH / ORP
Monitoring the pH , output ensures optimal in all industrial fields.
In addition, the pH value is a controlled critical variable that affects factory performance.
Therefore, Endress + Hauser reliable products help protect people and the environment and guarantee high quality products.
Digital sensor applications in 

pH / ORP

 :
Process control in the chemical industry

Industrial wastewater treatment plants

Control in the food industry
2- Conductivity 
Electrical conductivity monitoring is essential for monitoring wastewater treatment and controlling cleaning processes in the food and pharmaceutical industries.

Conductivity is used in the chemical industry to determine the concentration of acids and bases.
Applications of digital sensors in conductivity:
WFI water monitoring in the pharmaceutical industry

Monitoring of cleaning processes

Monitoring the water entering the boiler

Water purification control
3- Dissolved oxygen
Which is a key factor in determining the water quality index during surface water monitoring or in water treatment systems.
It is also an essential factor in ensuring very effective aeration in river basin systems and ensuring optimal conditions for fish production.
Application of 

digital sensors in dissolved oxygen
River aeration control

Monitoring the water entering the boiler
4- Disinfection and disinfection
Chlorine and chlorine dioxide measurements are required in all disinfection areas to ensure effective safety and water treatment.
Application of digital sensors in disinfection and disinfection
Flexible disinfection system in swimming pools

Water process and cooling circuits

Permanent disinfection in drinking water
Rose Calibration Company in Melbourne, Australia with over ten years of experience provides all calibration, maintenance, and repair services throughout Australia. If you live in Sydney, Melbourne, Adelaide, Perth, Geelong, and Brisbane, you can receive your quote in less than two hours by fill-up the form via the "Booking" link.