Temperature and humidity thermographs are devices that measure the parameters of a specific and sensitive environment by their internal sensors sensitive to temperature and humidity, and then hold and hold in their internal memory for further experiments or preparation of culture and storage environments. They have. Thermographs mainly have three famous models, which are USB models such as BENETECH GM1365, with TESTO 175 T1 screen and mini-data loggers, which are known in Iran as scales that are powered by batteries. One of the unique features of the mentioned temperature and humidity thermographs is the ability to connect to a computer and provide data output in the form of thermal diagrams (thermograph) and Excel for data analysis by the user.
In most biological industries such as food, pharmaceutical, health, etc., it is necessary to have a sampling system of environmental parameters throughout the year. It is very important to measure temperature and humidity, display and record information and data
Types of temperature and humidity thermographs in terms of application



Thermographs or more precisely thermographic thermometers according to the type of use of this device include two peripheral and contact sets. The contact thermometer has a separate probe to measure the parameters in case of contact with the object under test and the peripheral thermograph by an internal sensor. They have the ability to measure the temperature and humidity of the explored environment.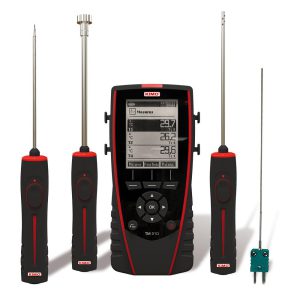 Applications of temperature and humidity thermograph
Increasing temperature and humidity is one of the most effective factors in food spoilage in warehouses, which increases the activity of insects and other parasites as well as microorganisms in food. Increasing or decreasing the temperature or humidity in warehouses can cause premature spoilage of food. Therefore, temperature and humidity thermographs by measuring and recording these parameters as well as analytical output of temperature and humidity in food warehouses can play an essential role in helping maintenance. The better the food. The important applications of temperature and humidity data loggers can be mentioned as follows:
• Measurement of temperature and humidity in office buildings, greenhouses, food storage systems, refrigerators, food containers, assistance in the installation of air conditioning systems, sensitive computer rooms and large networks, laboratories, libraries And Museums
• Temperature monitoring in storage rooms for sensitive electronic equipment and their manufacturers or recording temperature and humidity data to control high voltage discharge stations
• In contaminated water treatment and treatment units during the monitoring process Monitor and record information
Temperature and humidity thermograph components
Appearance circuitry or special hardware for converting analog to digital data, including sensors, amplifier and noise reduction circuits, and analog-to-digital ADC converter circuits.
• Data storage, which are mainly memory cards (SD cards).
• Special software for each brand of data loggers that are used to analyze and
display  data . Is in charge
The feature of a good and reliable data logger or thermograph can be in the form of temperature and humidity measurement range, measurement accuracy, internal storage capacity, having a screen and the ability to display temperature and humidity at the same time, ambient or thermographic contact, adjustable for audible alarm and Expressed the image to transcend the high and low temperature range – the ability to draw graphic graphs and so on. By clicking on the image below, you can see the Persian user guide and instruction for working with Datular Testo software in PDF format.
Rose Calibration Company in Melbourne, Australia with over ten years of experience provides all calibration, maintenance, and repair services throughout Australia. If you live in Sydney, Melbourne, Adelaide, Perth, Geelong, and Brisbane, you can receive your quote in less than two hours by fill-up the form via the "Booking" link.