Photocells are sensors that allow light to be detected.
They are small, cheap, low power and easy to use.
This is why they are often used in tools and most applications.
It often cells, CdS (cadmium sulfide are made), light dependent resistors [1] (LDR) resistance and optical [2] is called.
[1] light-dependent resistors
[2] photo-resistors
Photocells are basically resistors that change their resistance (in ohms) depending on how much light shines on them.
They are very inexpensive and come in many sizes and specifications but are not very accurate.
Each photocell sensor operates slightly differently from the other, even if they are from the same category.
The variations can be really large, 50% or higher so they should not be used to determine the exact light level.
Instead you can expect to determine only the base light changes.
Some basic cases 
Almost all photocells, although similar, have slightly different specifications.
In fact, by referring to the data sheet, the following can be realized:
Size and diameter
Price
Resistance range
Sensitivity range
In fact, photocells respond to light between the wavelengths of purple (400 nm) and orange (600 nm), and their peak is around the green wavelength (520 nm).
Power supply 
Approximately up to 100 volts, less than 1 mA on average (depending on power supply voltage).
Test a photocell 
The simplest way to determine how a photocell works is to attach a multimeter to the two resistor pins in the resistance measurement mode and see how the resistor changes while shading the sensor by hand, turning off the lights, and so on. Shown in the figure below.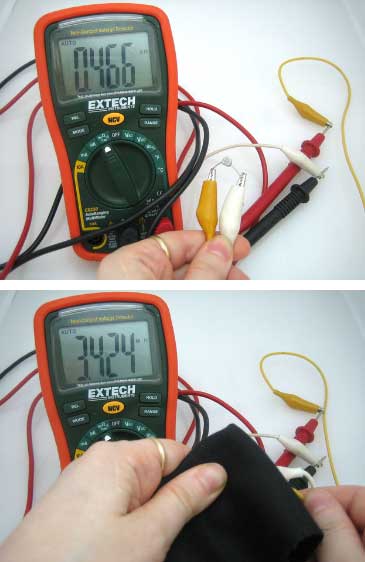 How to connect a photocell 
Photocells are very durable and can be easily soldered.
The only care that should be taken is to avoid bending the bases in epoxy sensors because if they bend too much, they will break.
Application of photocells in street lamps
1- Application of photocells in automatic lamps
Photocells are commonly used to turn lights on and off automatically in homes and streets. 
By using this device, electricity consumption is significantly reduced and energy consumption is saved.
How the photocell switch works is that when it is during the day, the photocell generates a voltage due to the presence of light, which commands a relay (a kind of automatic switch on and off) that cuts off the street lighting circuit.
As the air gets darker because there is no light, the photocell no longer produces voltage and no current reaches the relay that commands the street lights to be turned off, so the street lights come on.
2- Application of photocells in solar cells
Today, photocells are used to convert light emitted from the sun into electricity, and thus it is referred to as a source of clean electricity, which is gaining in popularity day by day.
They use silicon solar batteries to power Earth satellites and spacecraft.
3- Application of photocells in smoke detection sensors
Using a photocell, a smoke-sensitive circuit can be built that is widely used and many companies now produce different types of it.
4- Application of photocell in the lens of cameras
Another application of photocells is used in the lens of cameras so that when the lighting conditions change, the camera can change to different modes and take a good photo.
Rose Calibration Company in Melbourne, Australia with over ten years of experience provides all calibration, maintenance, and repair services throughout Australia. If you live in Sydney, Melbourne, Adelaide, Perth, Geelong, and Brisbane, you can receive your quote in less than two hours by fill-up the form via the "Booking" link.