What is a thermovision camera?



Thermal cameras, or in other words, thermovision cameras are offered in different shapes and different functions, which have mostly the same application, which we have tried to deal with briefly in this research. Thermographic cameras are mainly designed by hand. Which have better mobility, but are made in the form of headbands for firefighting purposes to facilitate firefighting and even military purposes. 
Thermal cameras include five main components, including the optical system, detector, amplifier, and signal and image processor. Most thermal cameras work on the basis of a combination of black for normal thermal points and highlighting hot spots. The important role of the use of thermovision cameras in helping firefighters determine the location of a fire in the midst of a mass of smoke and other conditions is obvious.
The first infrared detector, later known as the thermovision camera or thermograph, was made by Hungarian physicist Kálmán Tihanyi for the British Air Defense. Thermovision prototypes were built for civilian purposes in 1992, but the full prototype was introduced to the world in 2007 at 1.5 pounds, which is a significant weight.
Application of thermovision camera
Thermal cameras have a variety of applications, both military and civilian, and are known in the international literature as dual-use technology, and thermowitches with X480 and X640 resolutions classify the level of weapons regulation. As mentioned in the previous section, the thermovision camera was initially built for military purposes, but gradually became a practical tool in firefighting operations. Thermovision camera is used in electricity to obtain the work of line maintenance technicians and in the construction industry to be aware of heat leakage and prevent energy loss. This equipment with the brand of night vision camera is also used in luxury cars. Thermovision camera is also used in medicine to study the body's physiological activities, body reactions such as fever and..
In general, thermovision technology in materials such as night vision cameras, building inspections in the field of heating and cooling and energy auditing, war cameras and thermal imaging, medical thermography, veterinary, diagnosis and maintenance of power distribution equipment, such as towers Transformers and distribution panels, astronomy, chemical imaging, non-destructive testing, aerial imaging, archaeological and geographical excavations, and hundreds of other applications are used.
Application of thermovision in electricity
Today, thermovisions in the electricity industry are adjusted according to the increasing need for electricity and minimizing unwanted power outages, system stability and customer satisfaction, and finally customers' sense of trust in the power supply system, preventive maintenance program. The work experience of many of these unwanted outages is related to connections and jumpers and cabling and clamps connected to equipment. Thermovision in electricity helps its users to check these types of connections to check the amount of temperature or other parameters. Check the temperature of the equipment according to the principle that if the connection is weak and weak, according to Ohm's law, it has high resistance at that point and high resistance causes heat and heat, and this heat eventually causes the connections to melt and open. Which is the main task of thermal cameras.
Thermovision devicesDetects and displays hotspots by detecting infrared waves emitted from objects and equipment; Temperature is the main function of thermal cameras that allows the user to read the temperature of the desired point and compare it with the ambient temperature without disconnecting the equipment and connecting it to a special equipment. With thermovision in electricity and related industries, the conditions of important points can be Weighed the investigation and took action to eliminate possible defects and to avoid possible outages, especially during peak load. Using thermovision cameras in the electrical industry, after troubleshooting, the equipment can also be inspected and complete to ensure that the equipment is faulty.
Thermovision camera Care should be taken not to mistakenly identify hot spots, such as the presence of heat in the transformer winding is obvious, or by turning on a heater in the substation panel and identifying it by a thermal camera, do not assume the connection in the circuits. The time for thermovision visits to power substations is around sunset, when the effective heat of the sun on the equipment is reduced and the extra daylight does not prevent accurate view of the heat on the  thermal camera device .
Thermovision cameras  Today, they are produced very lightly and with high efficiency. By using it periodically in power substations, a high percentage of defects that will occur in the future can be prevented, even in some distribution companies in the big provinces of our country. Used, which has been very well received. In many cases, it has been seen that even with tight joints, we still have high temperature points that can be seen by re-examining and performing an ohmic resistance test (due to deformation or molding of connection joints). These hot spots appear. To be.
In general, and at a glance, thermal cameras in electricity to check the insulation, check the temperature rise in the axial connections, check the overheating in the connections, disruption of the network connections, power substations (transformers, cooling system, Fever switches, fittings, relays and breakers) are used to check for any defects associated with rising temperatures.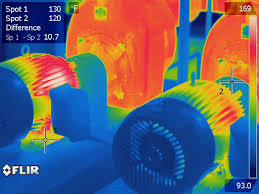 Rose Calibration Company in Melbourne, Australia with over ten years of experience provides all calibration, maintenance, and repair services throughout Australia. If you live in Sydney, Melbourne, Adelaide, Perth, Geelong, and Brisbane, you can receive your quote in less than two hours by fill-up the form via the "Booking" link.