Solenoid valve
A solenoid valve is a valve that operates using electricity and magnetic force.
A solenoid is a coil wrapped around an iron core. And when an electric current passes through it, it produces a magnetic field.
Magnetic force causes the nucleus to move linearly.
Therefore, the solenoid valve converts electrical energy into linear motion.
A solenoid valve is an electromagnetic device used to control gas or fluid.
The solenoid control is controlled using an electric current in the solenoid valve coil.
A magnetic field is created when electricity flows through the coil. And causes the iron core to move. This opens and closes the flow path.
These solenoid valves are remotely controlled according to the mode of operation.
If the destination is a long distance from the solenoid valve, it can send an electric command to open and close it, which is from 0 to 100%.
This type of solenoid valve is very important in automatic and industrial machines.
In general, these solenoid valves are produced in different types for different applications, which are examined in the following types and how they work.
What is a Solenoid?
Solenoids are commonly used to drive a solenoid valve. 
It is a device that converts electric current into linear motion and mechanical force.
Solenoids are made in compression-tensile and compression-tension types and can be connected directly to the valve mechanism.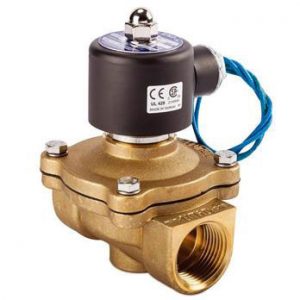 Where is the solenoid valve used?
The solenoid valve is used in a very wide range, and this has led to the fact that safety systems use this valve in abundance.
In general, they can use these valves wherever they deal with a non-viscous and clear fluid, such as water, gas, fluids, oil and oil.
The important thing about solenoid valves is their controlling role, and they can perfectly control the flow of different fluids.
Simple shut-off valves are used for many pipelines that have only two modes and are popular for connecting or disconnecting these flows.
However, in some heavy and complex factories and projects that require conditions such as compressed air, it is not possible to use these ordinary valves.
On the other hand, in some non-manual flow control materials such as gas, it can prevent major catastrophes.
The solenoid valve is an excellent choice in these projects and only requires a power supply.
In fact, as the flow becomes larger and more safety is required, solenoids or solenoids perform well.
The type of solenoid valve is also important in terms of where it is used.
Solenoid valves are made of different materials and are offered to customers according to the applied pressure, corrosive environment, inlet flow temperature and various factors.
For example, valves made of EPDM and PTFE are excellent for corrosive environments and can be used for many years.
Reasons to use a solenoid valve
The solenoid valve can be installed anywhere in the building and there is no need to visit the occupants in person to cut off the flow.

The solenoid valve is used in large industrial and petrochemical projects, and the operator can open or close it remotely or from the control room.

The use of solenoid valves means a reduction in human intervention, which significantly reduces the error rate.

Solenoid valves are made of a variety of materials and can be used in corrosive environments or at high temperatures.

These gas control solenoid valves can completely cut off the flow of gas entering the building during an earthquake, which means that the safety of a structure is increased.

The solenoid valve is easy to install and can be said to have the same mechanism as ordinary valves. So you do not need very special equipment or high skills to install them.

High pressure tolerance in solenoid valves allows industry owners to use them against very strong currents and put less pressure on other parts of their project.
Types of solenoid valves in terms of type of movement 
Direct movement solenoid valves
This solenoid valve can be called open or closed valve. And only open or close.
Servo solenoid valve
This solenoid valve can be open or closed based on the pressure difference in the diaphragm even when the current is off.
NC solenoid valve or normally closed
Both types of linear servo solenoid valves are normally open and normally closed.
The NC solenoid cuts off the fluid flow when the electricity is cut off. And when the reconnection is connected, they allow the fluid to pass.
NO or normally open solenoid valve
This solenoid valve allows the fluid to pass through when the flow is interrupted. And when the electricity is turned on, the flow path of the solenoid valve is closed.

Types of solenoid valves in terms of geometric shape
The two-way solenoid valve has two openings 
When the feed enters the coil, pressure flows from one side to the other.
When the power is cut off, the pressure flow stops. (In all cases it is assumed that NC valve (normally closed) is used.)
The three-way solenoid valve has three openings 
When feeding in the coil, one of the inlets is connected to the common opening and pressure is applied to expand the pneumatic cylinder.
When the power is off, another nozzle is connected to the common port and the pressure is discharged and the cylinder returns to its original state.
This mode is equivalent to a single-pole-single-path electrical switch.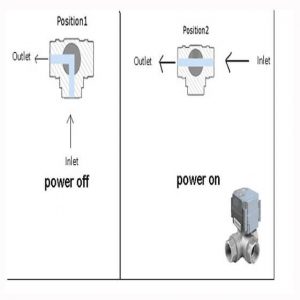 The four-way solenoid valve has four openings 
In the power supply mode, each port is connected to the corresponding port in front of it.
In the power off mode, this connection is reversed.
If a solenoid has more ports than you need, you can use less configuration to suit your needs.
A four-way solenoid valve can act as a three-way solenoid valve.
A four-way solenoid valve can act as a two-way valve.
A three-way valve can act as a two-way valve.
To choose the right solenoid valve, you should pay attention to the following factors

Maximum and minimum linear pressure at which the solenoid valve is located

Maximum and minimum pressure difference between solenoid inlet and outlet

Maximum and minimum flow through solenoid valve

Specific gravity, viscosity and type of fluid in terms of corrosion and…

Ambient and fluid temperature

Electrical specifications and power supply of the coil

Explosive or non-explosive solenoid valve environment
Rose Calibration Company in Melbourne, Australia with over ten years of experience provides all calibration, maintenance, and repair services throughout Australia. If you live in Sydney, Melbourne, Adelaide, Perth, Geelong, and Brisbane, you can receive your quote in less than two hours by fill-up the form via the "Booking" link.